Life Insurance Coverage for Infants
How to Get Life Insurance Coverage for Infants
Congratulations on the Birth of Your Newborn!
One of the greatest joys in life is having a child and planning to protect your newborn is an important part of parenthood.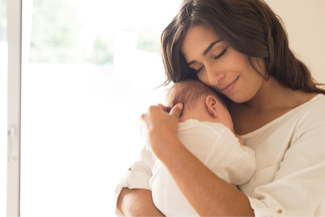 Many young parents choose to purchase life insurance coverage for their infant to provide several important benefits for the new life they have created.
With so many uncertainties in life, including health issues and financial constraints, more and more parents are choosing to provide financial security for their children starting at a young age, including infants and newborns.
A life insurance plan for your child can help.
Infant life insurance plans can build cash value savings inside the policy and guarantee your child has lifetime life insurance protection at a very low rate that is lock-in for your child's entire life.

In addition, your child will have the option to increase coverage guaranteed when he or she reaches adulthood.
No matter what happens, if your child develops a health issue which may make life insurance unaffordable, or if your child becomes uninsurable, they will be able to increase their coverage amount as an adult, which may provide very important protection for their own family one day in the future.
When Can You Start Infant Life Insurance?
Life insurance coverage can be purchased for babies usually within one month of being born.
It will depend on the insurance company offering the coverage, but some insurers may insure your newborn or infant starting as soon as 14 days old.
Is There a Medical Exam Required?
No, your baby will not have to take a physical exam, but you will have to answer a few simple questions about the health of your child.
How Much Life Insurance is Available for Infants? 
Some insurers offer from $5,000 up to $20,000 of coverage for children.
How Long Does It Take to Get Insured?
The entire process is simple. You just request a free price quote, apply online in about 5 minutes and start your child's life insurance policy the same day, if approved.
Top Pick – Globe Life Insurance
$1* Can Buy Up To $20,000 Globe Life Insurance for Children
No Medical Exam - Simple Application.
No Waiting Period. Buy Direct.
Rates as Low As $2.17 per month.
Join 4.2 Million Policyholders.
No Phone Required. No Credit Required.
No Agent Involved. 
Why Purchase Life Insurance for Infants?
Life insurance can provide your child with several important benefits including: 
Guaranteed Future Insurability
Lock-in Low Cost
Build Cash Value Savings
Guaranteed Option to Add Coverage in Future
Why is Guaranteeing Your Infant's Future Insurability So Important?
Because many young people today are developing health issues which may make it much more expensive for them to get insured in the future when they start a family of their own. And, some health problems can may make your child uninsurable in the future.
When you consider the number of children developing diabetes and/or obesity at a young age, both of these health issues can lead to difficulty finding affordable life insurance as an adult.
Diabetes Facts 
1.5 million Americans are diagnosed with diabetes each year.
Diabetes remains the 7th leading cause of death insurance the United States in 2015.
Approximately 1.25 million American children and adults have type 1 diabetes.
Source:  http://www.diabetes.org/diabetes-basics/statistics/
Obesity Facts 
Approximately 17% of the population is considered obese.
12.7 million children and adolescents are obese in America.
8.9% of children 2 to 5 years old are obese
17.5% of children 6 to 11 are obese
20.5% of children 12 to 19 are obese
Source:  https://www.cdc.gov/obesity/data/childhood.html
How to Get Your Infant Insured for Life Insurance
It's actually quite easy to purchase a life insurance policy on your child or children. Any parent may purchase a child life insurance plan on his or her children because parents have an insurable interest in their children.
The process of purchasing coverage is simple, you just request a free quote, apply online in about 5 minutes and begin your coverage.
With children's life insurance there's no physical examination required, just a few Yes/No health questions are asked about your child's health.
Top Infant Life Insurance Companies
Some of the leading insurance carriers offering life insurance for children include some well-known insurers such as Globe Life, Mutual of Omaha and Gerber Life, among others.
Amount of Insurance Coverage Available for Infants
The amount of coverage available will vary by insurer. For instance, Globe Life offers up to $20,000 of whole life insurance for kids.
Globe Life Coverage Amounts Available:
$5,000, $10,000, $15,000 or $20,000 of coverage.
Cost of Infant Life Coverage
Life insurance plan for kids are very affordable. Some start as low as $2.17 per month. It depends on the amount of coverage you need for your child.
Pay Only $1 for the First Month of Coverage
After the first month, the premium is based on the rate schedule for your child or grandchild's present age and is guaranteed to remain the same for the rest of their life.
No Medical Exam Needed 
Simple application without a health exam. Apply for a policy online in about 5 minutes.
No Waiting Period
100% full coverage begins from the first day your child is insured.
Globe Life for Your Infant
Globe life which was established in 1951 offers whole life insurance policies for children and grandchildren.
Globe Life has more than 4.2 million current policyholders across the United States.
Once your child is approved for coverage, the amount of life insurance benefits will never be reduced or canceled regardless of changes in health, age or occupation, as long as the premium payments are made on time.
Keep in mind, there is a risk-free, money-back guarantee.
Get an Infant Life Insurance Quote
Life Insurance Coverage for Infants
Disclosure: Compensated Affiliate