Can I Buy Life Insurance for My Husband?
Learn About Buying Life Insurance on Your Husband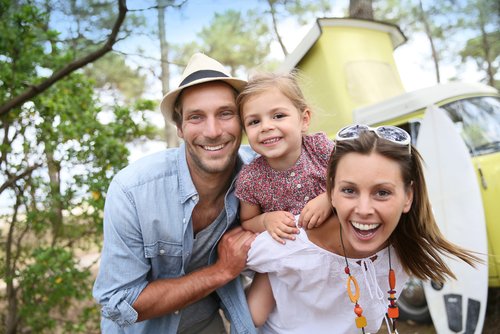 If you're married and your husband doesn't have life insurance, or, maybe he does have coverage through his job, but it's not enough, you may be wondering, "Can I buy life insurance on my husband?" 
It's a good question, and one that could be very important for the future of your family.
Why? Because, how would you and the ones you love get by without your husband's income? 
Life insurance on your husband can help you secure the future for you and your children.
The answer is "YES". You can purchase a life insurance policy on your husband.
What is Required to Get Your Husband Insured?
Well, you basically need two things:
Insurable Interest
Your Husband's Signature
Insurable Interest – You already have an insurable interest in your husband because you are his spouse and rely on him for financial support. 
Signature – Most insurance carriers may require his signature on the application for life insurance, but some may not.
In fact, there are life insurance policies available that will allow you to apply online for coverage on your husband and start his life insurance policy today, if he qualifies based on the information you provide, including answers to the questions about his health.
Applying for Coverage
Make sure to answer all questions truthfully when applying for a life insurance policy. 
If your husband dies as a result of a health issue not disclosed on the application for coverage, the insurance company may deny your death claim on your husband's life insurance policy due to misrepresentation of a material fact related to his health.
This means, the insurer would have declined to insure your husband had they known of his pre-existing health problem when you applied for the policy.
So, if your husband has any health issues, make sure the insurance company knows about it before they agree to insure him for life insurance.
What to Know When Getting Your Husband Life Insurance
The right way to get your husband a life insurance policy is to do the following:
Understand what you want your husband's life insurance plan to accomplish.
Determine how long you need his life insurance to last.
Set your budget for how much you can afford to spend monthly on his policy.
Figure out how much life insurance you need on your husband.
Comparison shop for the best price from highly-rated insurance companies.
Select a life insurance carrier with a financial strength rating of at least "A-" Superior.
Why Do You Need Life Insurance Protection on Your Spouse? 
Many wives choose to get coverage on their husband to replace his income should he pass away unexpectedly. However, there are many reasons for purchasing insurance on your spouse.
Reasons to Buy Your Husband Life Insurance
Replace Income
Provide for Child's College Education
Maintain Family's Standard of Living
Pay Off Home Mortgage Loan
Pay Off Auto Loan
Provide for Your Retirement
Pay Off Credit Card Debt
Pay for Living Expenses
Options for Buying Life Insurance on Husband
You have a few options for purchasing coverage for your hubby, including the following:
Fully Underwritten Life Insurance requires a medical exam and may offer you the option of purchasing up to $2,000,000 or more of life insurance.
Simplified Issue No Exam Life Insurance offers up to $1,000,000 of coverage with no medical exam. And, you may start your husband's policy today, if he qualifies.
Guaranteed Issue Life Insurance offers up to $25,000 of coverage and guarantees approval for people ages 45 to 85. This is for people who may not qualify for coverage due to age or health issues.
Fully Underwritten Life Insurance Quotes
Top Pick – JRC Insurance Group
JRC Insurance Group helps you shop, compare and save on life insurance. Regardless of your age or health background, we'll shop our 40+ insurance companies and find you affordable life insurance you need to protect your family and fit your budget. Compare the best life insurance rates for savings up to 73%. Get Your FREE Quote
Simplified Issue No Exam Life Insurance
Highly Recommended – Haven Life Insurance Agency
Get up to $2,000,000 of affordable term life insurance today
Apply online in under 20 minutes, start coverage today
Rated A++ by AM Best
Haven Life uses the information provided in your application to make an instant decision on your application. Healthy, qualified applicants (based on the information provided in your life insurance application) can be insured immediately with no medical exam while other applicants can receive immediate coverage pending a medical exam.
Applicants age 60-64 are eligible to apply for up to $1 million in coverage; subject to underwriting approval.  
Some qualified applicants (U.S. citizens up to the age of 59) will be able to finalize coverage without the need for a medical exam. The majority of applicants are still required to take a medical exam.  
Keep in mind: Issuance of the policy or payment of benefits may depend upon the answers given in the application and the truthfulness thereof.
Guaranteed Issue Life Insurance Quotes
Highly Recommended – United of Omaha
United of Omaha offers guaranteed acceptance whole life insurance for people age 45 to 85. Choose $3,000 up to $25,000 of coverage. Rates start as low as $8.80 per month. There's no medical exam and no health questions. You cannot be turned down. You can get a quote and apply online now. START HERE to get a FREE Quote.

Can I Buy Life Insurance for My Husband
Guaranteed Acceptance Life Insurance
Disclosure: Compensated Affiliate