Funeral Insurance for My Parents
Are You Looking to Buy Funeral Insurance Policies on Your Parents?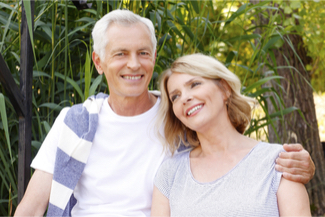 If so, you've come to the right place. Today it's quicker and easier than ever before to get the life insurance you need without the delays of an exam, or having to meet with an agent.
Planning for the future is a good thing, because many of us have parents that may not be able to afford the cost of their final expenses.
And, as recent studies show, the average cost of a funeral, burial and related expenses is around $7,848.
Now, you know your folks don't want you to be financially stressed out at a time when you are mourning their passing. And, you want to make sure they have the respectful funeral and burial they deserve. That's where a funeral insurance plan can help.

By purchasing funeral coverage you'll make certain there are the funds needed to pay for all the costs related to a nice funeral and burial for both of your parents.
And, with guaranteed issue funeral policies you won't have to bother with your parents having to take a physical examination, give blood and/or urine, or have the hassle of meeting with an insurance agent and sit through a high-pressure sales pitch.
Why go through all those hurdles to get what you already know you need for your folks?
Benefits of Funeral Life Insurance
Funeral life insurance coverage can provide the following:
Up to $25,000 of life insurance 

No Medical Exam

No Health Questions Asked

Guaranteed Approval for People Ages 45-85

30 Day Money-Back Guarantee
Who Can I Insure for Funeral Insurance? 
Usually, an adult may insure any family member who he or she has an Insurance Interest in.  
Since you are an adult, you may insure your parents for life insurance because you have an insurable interest in both of them. 
If you either rely on your parents for financial support of some kind, or you would lose out financially if they were to die, meaning you would pay for their final expenses, you do in fact have an insurable interest on both of them.
Amount of Insurance for a Funeral
The amount of funeral expense coverage available will vary by insurance company.  
Some life insurers offer up $25,000 or more of insurance. Usually, the lowest amount of coverage provided by a funeral plan would be around $2,500.
According to a study on performed on behalf of the National Funeral Directors Association, the average cost of a funeral in the US is around $7,848.
Funeral and Burial Related Expenses
Some common expenses related to a burial include:
Funeral

Embalming

Casket

Flowers

Headstone

Memorial service

Hearse
What is Insurable Interest?
Insurers require that in order to buy insurance on someone else, you must have an insurable interest in the person you wish to insure. 
Insurable interest basically means you either rely on the person for some means of financial support, or that you would lose out financially if the person were to die.
Permission of Insured
Usually, an insurance company will require that you have the permission of the person you wish to insure. However, not all insurers require the permission of the insured person to buy a life insurance policy on them.
Which Insurers Offer Funeral Policies?
Funeral expense coverage is available from several life insurance carriers. Among the leading providers of funeral cover are:
United of Omaha – Up to $25,000 of coverage for people ages 45-85

AIG – Up to $25,000 coverage for people ages 50-85

Foresters – Up to $35,000 coverage for people ages 45-80

Gerber Life – Up to $25,000 of coverage for people ages 50-80
Guaranteed Approval
Most funeral life insurance plans offer guaranteed approval meaning the person you want to insure cannot be turned down due to a pre-existing health condition.
No Health Check-Up 
With funeral cover insurance, there are no physical exams required to qualify for a policy.
No Health Questions Asked
A guaranteed issue funeral policy does not ask any questions about the health of the person to be insured.
No Risk - Free Look Period
Usually, a life insurance policy comes with a money-back guarantee, which means if you are not satisfied with your policy you may return it to the insurance company within the Free Look Period (usually 30 days) for a full refund of all premiums paid.
For Example: United of Omaha provides a 30 day money-back guarantee on their guaranteed-issue life insurance policies.
Funeral Insurance Quotes
Top Pick – Mutual of Omaha
Mutual of Omaha offers guaranteed acceptance whole life insurance for people age 45 to 85. Choose $2,000 up to $25,000 of coverage. Rates start as low as $8.84 per month. There's no medical exam and no health questions. You cannot be turned down. You can get a quote and apply online now. START HERE to get a FREE Quote.
Your life insurance policy comes with a 30 day Risk-Free, Money-Back Guarantee
Can I Buy Funeral Insurance for My Grandmother?
Funeral Insurance for My Parents
Disclosure: Compensated Affiliate