Lapsed Life Insurance Policy
What is a Lapsed Life Insurance Policy?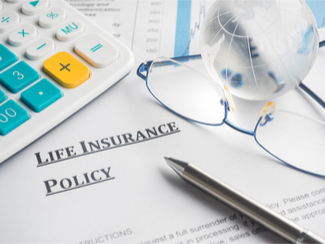 A life insurance policy that has lapsed, means the life insurance coverage is no longer in force because the premiums payments have not been sent in on time to the life insurance company.
If you own life insurance one of the most important priorities when paying your bills should be to make sure the premiums are paid on time for your life insurance policy.
Why? Because, you purchased life insurance with a goal in mind - To provide for your family in case the insured person dies.

If you do not pay your premiums on time, and the coverage lapses, that means you do not have life insurance.

A lapsed life insurance policy is one that has been terminated, is no longer "In Force", there is no coverage because the premiums were not paid.
One way to make sure this does not happen by accident is to set up an automatic withdrawal from your bank account whereby the monthly premiums are sent directly from your bank account to the life insurance company each month on a specific date as soon as the premiums are due.
That's why it's very important to make sure you pay your life insurance premiums on time, so your family will have the protection they need.
Whole life insurance policies lapse due to non-payment.
Usually there is a provision called the Automatic Payment Loan that takes money out of the cash value in a whole life policy to pay the premiums if you stop.
This is a safety feature in the policy because most people don;t consciously stop paying their life insurance premiums, especially when there is cash value in the life insurance policy.
Life Insurance companies write a clause into policies that allow policy owners to reinstate lapsed life insurance policies.
How A Policy Becomes A Lapsed Life Insurance Policy 

In order for a life insurance policy to remain in force the owner is required to pay premiums when they are due.
In the event that a payment is missed the life insurance company allows a period of 30 or 31 days for the premium to be paid. This period is commonly referred to as the grace period.
At the end of this period if the premium remains unpaid the policy goes into a state of lapse. 
As term life insurance policies have no cash value this is usually the case. They lapse.
Whole life insurance policies are a little different.
They will lapse in the initial year or two as there is no significant cahs value or dividend; however, as the years pass the cash and loan values inside the policy build up over time and policies such as these don't lapse that easily, unless otherwise elected what is called an automatic premium loan kicks in and pays the outstanding premium due, thus allowing the life insurance policy to remain in force. 

Although it will eventually lapse these features give the policy owner time to catch up on the unpaid premiums that are due. 

Reinstating Lapsed Life Insurance Policies 

When you have a lapsed life insurance policy the life insurance company gives you an opportunity to reinstate the policy usually within 5 years by paying all the back premiums due.
There is one problem that might get in the way. If the insured has become uninsurable reinstatement cannot be effected.
So, if your health has changed and you are no longer insurable, you will not be able to reinstate your life insurance policy. That's why it is so important to pay your premium on time.
If your life insurance policy coverage lapses, and are unable to re-instate your policy, you may need to apply for a new life insurance policy in order to get coverage.
And, if your health has changed, you may find the new rate for your life insurance will be higher, or you may even be denied coverage based on your current health.
Life Insurance Quotes
Top Pick – JRC Insurance Group
JRC Insurance Group helps you shop, compare and save on life insurance. Regardless of your age or health background, we'll shop our 40+ insurance companies and find you affordable life insurance you need to protect your family and fit your budget. Compare the best life insurance rates for savings up to 73%. Get Your FREE Quote
Additional Resources
Guaranteed Issue Life Insurance – If you have health issues, or you have been turned down for life insurance, people ages 45 to 85 may purchase life insurance with guaranteed approval with no medical exam or health questions asked.
No Exam Life Insurance Coverage
Disclosure: Compensated Affiliate