Life Insurance for Married Couples
Do Married Couples Need Life Insurance?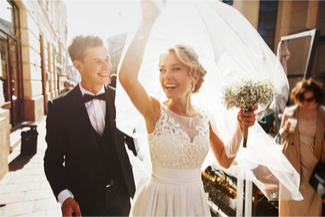 Life insurance for married couples should be a priority in your financial planning.
Whether you just got married, or you've been married for years, there's no worst scenario than the death of your spouse. 
That's why it's important to prepare for it.
Get a Free Quote for Life Insurance
When Should You Buy Life Insurance?
Here are some situations where you might want to protect your family with life insurance:
If you buy a house together as a couple, buy life insurance and name each other as the beneficiary. If one of you dies, then the other can take the death benefit and either pay off the house or invest it and pay the payment with the monthly interest that it earns.
When you have children together. If you both die together in a car accident, you need to leave money behind for your children to live a happy and financially secure life.
When one spouse is a stay-at-home parent. If the primary income earner dies, the other spouse MUST be left with a death benefit to cover monthly expenses. Also, the stay-at-home spouse should have life insurance, because how would the surviving spouse pay for all of the work done by the stay-at-home spouse – shopping, cleaning, cooking, child care, etc.?
What Type of Life Insurance Should You Buy?
For a younger married couple in these types of situations you may want to consider level term life insurance.
Why? Because level term is the most popular type of life insurance for a number of reasons: It's easy to understand, it's the most affordable, it's flexible – offering coverage for 10, 15, 20, or 30 years.
Term life insurance is only a death benefit of a specified amount for a level amount of time, and the premium is extremely cheap for healthy individuals.
Permanent life insurance provides lifetime protection and builds cash value, but the premiums are usually 2-3 times higher than term life.
If you're on a budget, or you want the most life insurance at the lowest price, consider term life insurance.
Don't use a life insurance policy for your retirement investing. Use mutual funds, index funds, and real estate for your retirement nest egg. Life insurance is for protecting the ones you love, not as an investment tool.
How Much Life Insurance Should You and Your Spouse Buy?
Consider buying at least 7 to 10 times of your yearly income. So, if you make $60k a year, then you should buy $420k to $600k in term insurance.
The idea here is that your spouse could take that money, invest it in a good mutual fund or index fund, and replace your monthly income with the monthly interest from the lump sum death benefit.
Life insurance proceeds are usually paid free from federal income tax.
To determine how much life insurance you need, you can use the life insurance calculator.
Life Insurance Quotes
Top Pick – JRC Insurance Group
JRC Insurance Group helps you shop, compare and save on life insurance. Regardless of your age or health background, we'll shop our 40+ insurance companies and find you affordable life insurance you need to protect your family and fit your budget. Compare the best life insurance rates for savings up to 73%. Get Your FREE Quote
Highly Recommended – Haven Life Insurance Agency
Get up to $2,000,000 of affordable term life insurance today
Apply online in under 20 minutes, start coverage today
Rated A++ by AM Best
Haven Life uses the information provided in your application to make an instant decision on your application. Healthy, qualified applicants (based on the information provided in your life insurance application) can be insured immediately with no medical exam while other applicants can receive immediate coverage pending a medical exam.
Applicants age 60-64 are eligible to apply for up to $1 million in coverage; subject to underwriting approval. 
Some qualified applicants (U.S. citizens up to the age of 59) will be able to finalize coverage without the need for a medical exam. The majority of applicants are still required to take a medical exam. 
Keep in mind: Issuance of the policy or payment of benefits may depend upon the answers given in the application and the truthfulness thereof.
Remember, whether one of you works, or you both work, you both contribute to your family. So, it may be a good idea to buy life insurance for both you and your spouse.
Life Insurance for Married Couples
Disclosure: Compensated Affiliate