Understanding Term Life Insurance for Mortgage Protection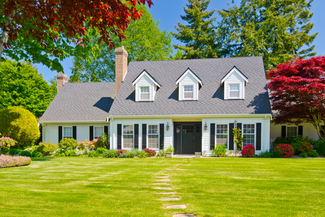 Every homeowner or potential homeowner naturally harbors some anxiety about what would happen if they were no longer around to keep up with the mortgage payments.
This is where term life insurance mortgage protection steps in. It's an essential tool that offers a valuable safety net for homeowners and their families by offering a way to manage one of life's biggest uncertainties—unexpected death.
So, what exactly is Term Life Insurance for Mortgage Protection?
In essence, it's a life insurance policy that runs alongside your mortgage and pays the balance should you pass away during the term. This type of insurance guarantees the peace of mind that your family won't be left burdened with mortgage debt and ensures they can remain in their home. Request a free quote for affordable term life to protect your home loan.
Who Can Qualify for Term Life Mortgage Protection?
Anyone between the ages of 18 and 65 (or older) may qualify to purchase mortgage term life insurance protection, and its benefits are especially apparent for those with dependents. The policy provides a strong sense of security, knowing that your loved ones can stay in their home no matter what happens.
Why Buy Mortgage Term Life Protection?

When thinking about why you should consider term life insurance mortgage protection, it's vital to remember that death is an inevitable part of life. Being prepared for the worst-case scenario allows your family to focus on healing and not on financial hardship.
Your spouse, partner or children won't have to worry about making mortgage payments without your income – they can use the proceeds from your life insurance policy (death benefit) to pay off the outstanding loan on your home mortgage.
What Does a Mortgage Term Life Policy Cost?

The cost of term life insurance to protect your mortgage depends on several key elements — Your age, the mortgage amount, your health condition, and your lifestyle habits, including smoking and drinking. As a general rule, the younger and healthier you are, the lower the premium charged for your policy.

To get an idea of how much your policy would cost, it's a good idea to request a quote. The quote can provide you with a ballpark figure customized based on your specific details and needs. And, you can instantly compare the best prices from several of the most financially secure life insurance companies.
It's worth noting that buying term life insurance for mortgage protection isn't a one-size-fits-all scenario, meaning it's essential to shop around for the best policy from a trusted insurance company.

How to Save Money on Your Policy
One key tip to save money on your term life insurance policy is to lead a healthy lifestyle. Since the premium amount is heavily dependent upon your health condition and lifestyle choices, staying fit and healthy can significantly reduce your premium costs.
Follow these helpful tips to save on your life insurance policy:
Compare Rates – By comparing rates you may save up to 50% (or more) on your life insurance because each insurer has their own set of rates, and rates can vary quite a bit between companies.
Choose Term Life – Term life insurance is the cheapest form of coverage offering the lowest rates by far, compared to permanent life insurance.
Choose Annual Premium Payments – They are lower than paying monthly premiums. The insurance company charges a finance fee for monthly payments. 
Quit Smoking – Smokers pay 2 to 3 times more for the same amount of life insurance compared to Non-smokers. So, if you smoke, it pays to quit smoking.
Get Healthy – Lower your cholesterol level and your weight (if you are overweight) to qualify for lower rates on your life insurance.
Buy Coverage While You are Young and Healthy – Rates for younger adults are lower, and healthy people qualify for lower rates on life insurance than those with health issues.
Choosing the Right Amount of Coverage for Your Mortgage
It's simple. If all you need your term life policy to protect is your home mortgage loan, then choose to purchase an amount of life insurance that is equal to how much you currently owe on your mortgage.
However, you can buy a higher amount of coverage, and your family can use the additional amount (above your mortgage debt) for any other purpose they see fit, should you pass away. For instance, to make sure your children have the money needed to attend college.
Applying for Coverage


The application process for term insurance mortgage protection can typically be completed online, which provides convenience and speed. It generally involves providing essential information about your health, lifestyle, and specific details about your mortgage.

Depending on the insurance company and your overall health condition, you may need to undergo a medical exam. This examination helps the insurer assess your health risk, affecting your premium costs. The insurer pays for the physical examination.

On average, it takes a few weeks to get insured after applying. The precise timeline is influenced by various factors such as the insurance company, the policyholder's health condition and, in some cases, the underwriting process.


No Exam Coverage

Thanks to the digital era, some companies now offer immediate coverage, letting you check one more thing off your to-do list right from the comfort of your home. You can purchase your insurance online and get covered as soon as your application is approved.
If you qualify for coverage, you may be able to start your life insurance the very same day you apply online.
Choosing a Beneficiary

One crucial aspect of your mortgage protection term life insurance is naming a beneficiary. This is the person who receives the death benefit of your term life policy—usually a spouse, adult child, or another family member.

The beneficiary will receive the death benefit if you die during the term of the policy, which they can then use to pay off the remaining balance owed on the mortgage, thus securing their continued residency in the home they shared with you and experienced so many memories.


Benefits of Buying Term Insurance to Protect Your Mortgage

There are additional benefits to buying term life insurance for mortgage protection. Not only does it cover the mortgage, but the death benefit can also be utilized to cover other expenses such as funeral costs, children's education, or other financial obligations, providing additional financial security to your family.

Having reviewed all the advantages, it's clear that a term life policy to protect your mortgage and family is a significant relief and perhaps a necessity for homeowners. With this type of insurance, you're safeguarding your family's future and their ability to keep their beloved home.


When to Get Insured?

It's crucial to remember, the best time to get insurance is now. When it comes to life insurance, age and health are two primary factors that decide your premium, and as you age, you are likely to pay more.

Some will wonder if term insurance is the right choice. However, if your main concern is to protect your mortgage, term life insurance for mortgage loan protection stands as a more affordable option compared to other forms of life insurance available.

As your mortgage's outstanding balance decreases over time, your policy can be adjusted accordingly, ensuring that you only ever pay for coverage you actually need, providing further cost savings.

Now that you're armed with the knowledge of term life coverage to protect your home loan, remember that being proactive has its rewards. Attending to this matter early on will give you peace of mind, knowing you have adequately protected your family from the unexpected.


How to Choose a Life Insurance Carrier
With many excellent insurance companies to choose from, be sure to compare price quotes, financial strength ratings, and read reviews to ensure you're making an informed decision. Preferably, choose a company known for its customer service, reliability, and speedy claim settlements.
Also, make sure to choose a life insurer with a financial strength rating of at least "A-" Excellent, or better. Your free quote comparisons should provide the financial rating of the insurance companies, as well as, the best prices available. The higher the financial rating, the better.
Note: The life insurers are rated by independent rating agencies that review the financial statements of the life insurance companies and issue a financial strength rating. Some of the leading independent rating agencies include A.M. Best, Standard and Poor's, Moody's and Fitch.
When to Update Your Coverage

Remember to review and potentially update your policy regularly, especially when major life events occur (e.g., having more children or buying a new home). Any major life change can shift your needs and maybe your price.


Overview

Overall, term life coverage to protect a mortgage is more than just another bill—it's a lifeline for your loved ones, a safeguard for your most significant financial investment, and a shield that protects your family from the potential burden of a mortgage debt.

In conclusion, taking out life insurance for mortgage protection is a decision made from love, concern, and the commitment to securing a safe and certain future for your family.
So, if you're a homeowner or planning on taking up a mortgage soon, don't wait. Request a term life insurance quote today and take that crucial first step towards complete financial protection for your family.
Start Your Mortgage Term Life Insurance Quote Now
Mortgage Term Life Insurance with No Physical Exam
Term Life Insurance Mortgage Protection
Disclosure: Compensated Affiliate