Life Insurance in NY
Are You Shopping for Life Insurance in New York?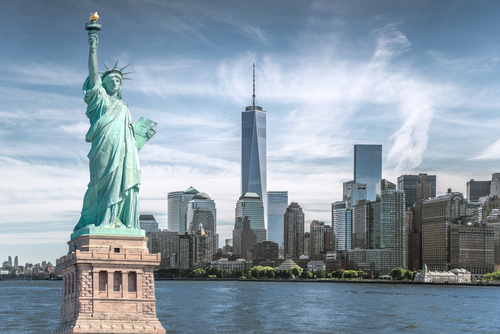 If so, you've come to the right place. Today it's quicker and easier than ever before to compare affordable life insurance plans from quality insurance carriers on the internet.
If you're searching for an affordable life insurance policy and you live in New York, you may find it's quicker and easier than you thought to get inexpensive coverage from a highly-rated insurance company.
In fact, it only takes a few minutes to request and receive the best pricing from the top life insurance companies direct on your screen.
There's no delay, no hassles and no obligation to buy. Just free, instant quotes.
What is Term Life Insurance Coverage?
It's a type of life insurance that provides you with protection for a specific amount of time.
For example, many insurers offer term life insurance for a period of 10, 15, 20, 25 or 30 years.
How Does Term Life Insurance Work?
Term insurance is temporary life insurance for a specific length of time.  Most term life policies provide coverage for a period of between 10 to 30 years.
You can choose a term of 10, 15, 20, 25 or 30 years for your coverage. The longer the term of your policy, the higher the price you pay for your life insurance.
Term life can help protect those temporary obligations you have, including protection to pay off your home mortgage, provide for your child's education or replace your income.
If you pass away during the term of your coverage, the beneficiary you choose will receive the death benefit from your life insurance policy.
If you are alive when your term ends, your life insurance coverage expires. You may choose to renew your term life policy for another term of 10 years, usually, but the price you pay will increase based on your age at the time you renew the coverage.
How Much Life Insurance Protection Do I Need?
Many life insurance experts and financial advisors recommend from 10 to 20 times your annual income.
So, if you earn $50,000 a year, you may want to purchase from $500,000 up to $1,000,000 of life insurance protection.
However, it depends on your own personal situation, including the amount of money you have saved, your current debt, and what your goals are for the future.
Here's a life insurance needs calculator you can use to quickly and easily determine how much life insurance is right for you.
Start Your Free Life Insurance Quote
Life Insurance Companies Based in New York
Here is a list of some of the leading life insurance carriers based in New York:
New York Life
John Hancock Life Insurance Company of New York
Allianz Life Insurance Company of New York
Met Life
Security Mutual Life Insurance Company of New York
Guardian Life Insurance Company of America
US Life Insurance Company
William Penn Life Insurance Company of New York
Great-West Life & Annuity Company of New York
MONY Life Insurance Company
USAA Life Insurance Company of New York
Leading Causes of Death in New York – 2013
Source:  http://www.health.ny.gov
Here is a list of the leading causes of death for residents of New York:
Heart Disease
Cancer
Chronic Lower Respiratory Disease
Stroke
Accidental Death
Pneumonia
Alcohol-Related
Diabetes
Alzheimer's
Kidney Disease
Suicide
Infant Death
Homicide
AIDS
Leading Types of Cancer Causing Death in New York – 2013
Source:  http://www.health.ny.gov
Here is a list of leading types of cancer causing death of New York residents:
Lung
Breast
Colon
Pancreas
Urinary Organs
Prostate
Liver
Leukemia
Ovaries
Esophagus
Stomach
Brain
Rectum
Lip, Oral & Pharynx
Cervix
Bone    
Leading External Causes of Death in New York – 2013
Source:  http://www.health.ny.gov
Here is a list of the leading external causes of death for residents of New York:
Accidental Poisoning
Suicide
Accidental Fall
Motor Vehicle Accident
Homicide and Legal Intervention
Accidental Threat to Breathing
Accidental Fire
Accidental Drowning
Specifics of Life Insurance in New York State
The insurance industry in New York is regulated by The State Insurance Code of New York. The state uses this code to regulate claims and provide certain provisions to protect life insurance customers in the state of New York, such as:
Free Look Period
According to the state code, a free look provision must be included in every New York life insurance policy. This period allows you to change your mind even after you have signed the contract with the insurance company and received all policy documents.
Most insurance companies give at least a 10-day cancellation period without penalty. In some cases, it may be as much as 30 days.
Grace Period
The New York state insurance code requires that New York life insurance companies allow a 31-day grace period on late premium payments.
If you miss a premium payment for any reason, you must be given 31 days to bring the account current before the insurance carrier can cancel the life insurance policy due to non-payment of premiums.
Resources for Life Insurance in New York State
New York Department of Insurance
The purpose of the Department of Insurance is to faithfully execute the state insurance laws in a manner that protects insurance customers and the life insurance industry in New York.
www.dfs.ny.gov/insurance/dfs_insurance.htm
Life Insurance Company Guaranty Corporation of New York
State guaranty associations are there to provide protection and continuing life insurance coverage in New York, even in the event that a life insurance company becomes insolvent.
www.nylifega.org
Life Insurance Company Financial Strength Ratings
A.M. Best, Moody's, and Standard and Poor's provide ratings for life insurance companies based on financial strength and past performance.

www.ambest.com
www.standardandpoors.com/en_US/web/guest/home
www.moodys.com
 New York Life Insurance Quotes
Top Pick – JRC Insurance Group
JRC Insurance Group helps you shop, compare and save on life insurance. Regardless of your age or health background, we'll shop our 40+ insurance companies and find you affordable life insurance you need to protect your family and fit your budget. Compare the best life insurance rates for savings up to 73%. Get Your FREE Quote.
Highly Recommended – Mutual of Omaha
Mutual of Omaha offers guaranteed acceptance whole life insurance for people age 50 to 75. Choose $2,000 up to $25,000 of coverage. Rates start as low as $8.84 per month. There's no medical exam and no health questions. You cannot be turned down. You can get a quote and apply online now. START HERE to get a FREE Quote.
Your life insurance policy comes with a 30 day Risk-Free, Money-Back Guarantee
New York Guaranteed Acceptance Life Insurance
Mutual of Omaha vs. AARP New York Life
Disclosure: Compensated Affiliate