Life Insurance Policy Types
Types of Life Insurance Policies
What Type of Life Insurance Policy Is Right for You?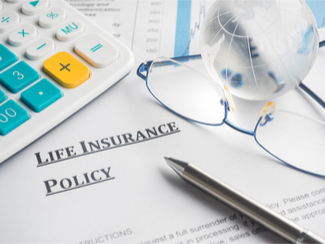 If you're looking for a life insurance plan to protect the ones you love you may want to review your options when it comes to choosing the right plan to meet your family's needs.
There are several key factors to consider before selecting a policy, including:
What goal do you want your policy to accomplish?
How many years will you need your life insurance to last?
How much insurance do you need?
What is your budget – How much can you spend per month?
Now that you've considered these important question, here are descriptions of different types of life insurance plans available.
Different Life Insurance Policy Types
Term Life Insurance
Term life provides coverage that lasts for a specific duration, usually up to 30 years. You may select coverage lasting for 10, 15, 20, 25 or 30 years. 
In addition, some plans offer coverage that lasts until a specific age – 80, for instance. Each policy will have a premium guarantee which may vary by policy. 
For example, you may have premiums that are guaranteed to remain the same each year for a period of 10 years. Your policy provide coverage for the "term". 
You may be able to convert your term (temporary) coverage into a permanent life insurance policy. Term insurance is lowest priced life insurance by far. Get a free quote.
Types of Term Life Insurance
Level Term – This plan offers coverage for up to 30 years with level premiums each year, and the amount of insurance protection stays the same. 
Convertible Term – This plan offers the option to convert your term life policy into a permanent life insurance plan.
Renewable Term – This plan allows you to renew your term policy for another "term" when the original policy expires. You will not have to take a medical exam to prove insurability, but your renewal premium will be higher because it will be based on your age at time of renewal.
Decreasing Term – This plan provides temporary coverage with premiums that remain level each year, while the amount of life insurance decreases annually.
Return of Premium – This plan provides term coverage for a set period of time, but your premiums are higher, because you will receive your premiums back if you outlive the duration of your policy. 
Permanent Life Insurance
Permanent, also known as, whole life insurance provides coverage for your entire lifetime. 
The premium you pay remains the same for the life of your policy. 
These plans build up cash value inside the policy over time, from which you my take a loan. 
Permanent insurance can cost up to 5 to 10 times more for the same amount of life insurance compared to term insurance. 
Permanent life insurance policies are also known as cash value life insurance because of the cash feature. Get a free quote.
Guaranteed Issue Life Insurance
This plan provides permanent protection and builds cash value. There is no health exam required and you won't have to answer any questions about your health. 
You are guaranteed approval for coverage if you meet the age requirements; for example, age 45 to 85. Get a free quote.
Accidental Death Insurance
This plan provides life insurance coverage that pays out a death benefit if the insured person dies as a result of an accident. 
Usually, death must occur within 6 (or 12) months of the accident in order to be covered under the policy. Get a free quote.
Child Life Insurance


This plan provides life insurance on your child (or grandchild). 
These policies build up cash value and provide lifetime (permanent) life insurance protection. 
This plan may offer the option of increasing the amount of life insurance provided by the policy when the child reaches adulthood. Get Child Life Insurance coverage.
 Compare Life Insurance Quotes
Top Pick – JRC Insurance Group
JRC Insurance Group helps you shop, compare and save on life insurance. Regardless of your age or health background, we'll shop our 40+ insurance companies and find you affordable life insurance you need to protect your family and fit your budget. Compare the best life insurance rates for savings up to 73%. Get Your FREE Quote.
Highly Recommended – Mutual of Omaha
Mutual of Omaha offers guaranteed acceptance whole life insurance for people age 45 to 85. Choose $2,000 up to $25,000 of coverage. Rates start as low as $8.84 per month. There's no medical exam and no health questions. You cannot be turned down. You can get a quote and apply online now. START HERE to get a FREE Quote.
Your life insurance policy comes with a 30 day Risk-Free, Money-Back Guarantee
Life Insurance Policy Where You Get Money Back
How to Decide How Much Life Insurance to Buy
Life Insurance for Uninsurable People
Life Insurance for Adult Children
Disclosure: Compensated Affiliate