Term Life Insurance Questions to Ask
Questions to Ask When Buying a 
Term Life Insurance Policy
If you're shopping for term life insurance coverage to provide your family with affordable protection there's some things you should consider before when choosing your plan and insurance company.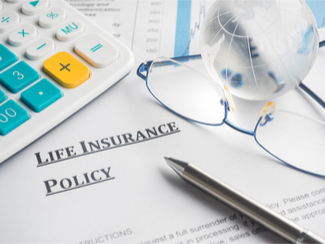 Questions to Ask for Term Life Insurance 
If you're considering the purchase of a term insurance policy to protect your family you may have some questions that need answering to help you better understand term life coverage.
Here is a list of some common questions about term life you should ask before buying a policy:
What is Term Life Insurance Coverage?
It's life insurance protection that lasts for a temporary period of time, usually up to thirty years.
How Much Term Life Insurance to Buy?
To decide how much term insurance you need, you'll want to consider your total assets, savings, debts, income, living expenses, and future financial goals. 
Use a life insurance needs calculator to figure out how much life insurance may be right for you and your family' specific needs.
What Does a Term Life Policy Cost?
Your cost of your insurance will depend on the duration (term) of your coverage and the amount of life insurance provided by your policy. 
In addition, your age and gender will affect your cost.
Also, your personal risk factors including your health, lifestyle, family health history, tobacco use, driving record, hobbies, occupation, and height-to-weight ratio, among other things.
 Request a Term Life Insurance Quote
How Long Does Term Life Insurance Last?
Term insurance usually offers several different options for coverage terms including 10, 15, 20 or 30 years.
How to Save Money on Term Insurance?
There are several ways to save on your term insurance including quit smoking, get healthy, lose weight, lower your cholesterol, buy coverage while you are young and healthy, compare pricing from several insurers, and choose coverage for a shorter duration to get lower annual premiums.
Important Features of Term Life Insurance:
Renewable Coverage – Allows you to renew your current term policy when it expires so you can continue your insurance, without having to take a exam to qualify for the renewal policy.
Convertible Coverage – Allows you to convert your term coverage to a permanent policy by a specific date, so you can have guaranteed lifetime protection.
How Long is the Premium Guaranteed to Remain the Same?
With level term insurance your premium is guaranteed to remain the same each year for the entire duration (term) of your policy.
How Long is Term Coverage Guaranteed?
Your term life plan is guaranteed to last for the entire duration of your policy term, as long as the premiums are paid on time.
What Types of Term Life Policies are Available?
There are several types of term plans available including level term, decreasing term, return of premium, and no exam term life insurance.
Types of Term Insurance: 
Level Term – The lowest rates with level premiums and a level amount of coverage for the entire duration of your policy term.
Return of Premium – Get your premiums back if you outlive the duration of your policy.
Decreasing Term – Pay level premiums but the amount of coverage declines each year.
No Exam Term – Purchase term insurance without taking a health exam.
Which Term Insurance is Best?
The best policy for term insurance is the one that offers the coverage you need at the most affordable price from an insurance company with the highest financial strength rating.
Level term life insurance is the most popular type of term policy. It offers level premiums and level amounts of coverage for a duration lasting up to 30 years.
What is the Cheapest Term Life Insurance?
Level term life insurance offers the lowest premiums available for term insurance.
The lowest priced level term policy would be term insurance for the lowest amount of coverage (usually $50,000) and for the shortest term which may be 5 or 10 years.
By comparing prices from several life insurance companies you'll be able to find which insurer offers the lowest rates.
Best Term Life Insurance Company?
There are hundreds of insurance companies which offer term life insurance. Several of the highest rated insurers offering competitive pricing include Prudential, MetLife, Northwestern Mutual, Transamerica, and New York Life, among others.
Here is a list of the top term insurance companies in America.
Can I Buy Term Life Insurance without an Exam? 
Yes, if you qualify, you may purchase term life with no exam needed. Haven Life (backed by Mass Mutual) offers up to $1,000,000 of coverage for healthy applicants.
Here's how to get term life insurance without any medical exam.
How Much Term Life Insurance Can I Buy?
The amount of life insurance offered to any one individual may be limited to 10-20 times your annual income. There are many life insurance carriers that offer up to $2,000,000 or more of term life insurance protection.
Here's how to buy term life insurance online.
Does Term Life Insurance Expire? 
Yes, term insurance expires at the end of your policy term. For example, if you have a fifteen-year policy, your coverage expires at the end of the 15-year period.
Does Term Life Insurance Have Any Cash Value?
No, term insurance is pure protection, not an investment. A term life policy does not build up any cash value inside the policy.
Who Should Buy Term Life Insurance?
Anyone with a temporary need for life insurance that will last for a duration of 30 years or less.
So, if you have a family, own a home, are on a budget, need the maximum amount of life insurance for your money, or need life insurance that will last for thirty years or less, then term life may be right for you.
Reasons to Buy Term Life Insurance?
There are several popular reasons for purchasing a term policy, including:
To replace main breadwinner's income
To pay off home mortgage loan
To pay for child's college education
To maintain family's lifestyle
To pay for monthly living expenses
To provide for spouse's retirement
To pay off auto loan
To leave legacy for family members
To pay for child's wedding
To provide up to 30 years of life insurance protection
 Term Life Insurance Quotes
Top Pick – JRC Insurance Group
JRC Insurance Group helps you shop, compare and save on life insurance. Regardless of your age or health background, we'll shop our 40+ insurance companies and find you affordable life insurance you need to protect your family and fit your budget. Compare the best life insurance rates for savings up to 73%. Get Your FREE Quote
Term Life Insurance versus Permanent Life Insurance
Term Life Insurance Questions to Ask
Life Insurance Glossary of Terms
Disclosure: Compensated Affiliate