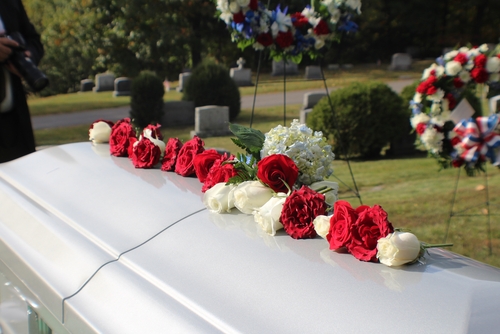 Burial insurance, also known as funeral insurance or final expenses insurance, is a policy designed to cover end-of-life costs such as the burial, a casket, a headstone, flowers, and a memorial service. Unlike traditional life insurance, burial insurance focuses specifically on these final expenses, relieving family members of the financial burden when the time comes.

Why should an adult child consider buying burial insurance for parents?
Primarily, it ensures that when the inevitable occurs, the burden of financial expenses doesn't add to the stress of dealing with a loved one's passing. For those whose parents may not have the means to buy burial insurance themselves or have not planned for their end-of-life expenses, it's a way of ensuring those costs are adequately covered.

Requesting free quotes and applying for a burial life insurance policy is relatively straightforward. Many insurance companies offer online forms where you fill in basic information about your parents such as their age, health status, and location. In return, you receive a quote outlining the potential costs for coverage. Request a Burial Life Insurance Quote.
Burial Life Insurance Companies
When seeking coverage, it's crucial to compare various insurance providers. Top companies offering burial insurance include Mutual of Omaha, AARP, and Gerber Life Insurance. Each company has varying premiums, benefits, and terms, so ensure you check customer reviews, financial strength ratings, and policy details of each before making a decision.
Up to $25,000 of coverage age 45-85 in most states
No physical exam and no health questions asked
Guaranteed Acceptance
30 day money-back guarantee.
Two year limited benefit period
Gerber Life
Up to $25,000 of coverage age 50-80 in all states except Montana
No doctor exam and no medical questions
Guaranteed Approval
Two year limited benefit period
Met Life
Rates as low as $10 per month.
Guaranteed Issue for ages 45-75.
Up to $20,000 of coverage available.
No medical examination required.
Two year limited benefit period.
AARP/NewYork Life
Up to $15,000 permanent group life insurance
Exclusively for AARP members
No medical exam and no health questions
Two year limited benefit period
Colonial Penn
Exclusively for ages 50 - 85 (most states)
You cannot be turned down because of your health
There are no health questions asked and no physicals to take
Two year limited benefit period

Application Process for Burial Life Insurance

Once you've compared quotes and providers, applying for burial insurance simply involves filling out the respective application forms. An essential part of this process is obtaining your parent's approval and signature on the application, as this is a requirement in many jurisdictions.

To legally purchase an insurance policy on someone else, you must possess an "Insurable Interest". That means you must be in a position where the death of the insured person would result in a financial loss. Adult children typically have an insurable interest in their parents, making the process of acquiring burial insurance straightforward.


Benefits of Burial Life Insurance Plans

There are several benefits to burial insurance. Firstly, it ensures that your parent's end-of-life expenses are covered, relieving financial stress in an emotionally challenging time. Many burial insurance policies offer guaranteed approval for individuals between 45 to 85 years old, with no need for a medical exam.
Peace of Mind
Lifetime Protection
Guaranteed Acceptance for Ages 45 to 85
No Medical Exams Required
No Health Questions Asked

Drawbacks of Burial Life Insurance Plans
However, there are also drawbacks to burial insurance. They can be more expensive than standard life insurance policies due to their special-purpose nature and guaranteed acceptance. People in good health may find better value in a traditional life insurance policy.
Limited Amount of Coverage – Usually up to $25,000
Age Requirements for Approval – 45 to 85 (Varies by State)

Cost of Burial Insurance
The costs of burial insurance vary significantly depending on several factors such as the age of your parents, their health status, and the insurer's policies. For instance, burial insurance for parents over 70 or 80 is typically pricier than for parents who are younger.
The price you pay per month for life insurance to cover burial costs may vary from $10 up to $50 or more depending on several factors including your age, gender, state of residence, amount of coverage, and tobacco use. Request a burial life insurance quote.
Features and Benefits of Funeral Insurance

Many features and benefits make funeral insurance a wise choice. We can highlight the following:


Ease of Approval: Given that most policies don't require a medical exam, it's easier to secure funeral insurance compared to other types of insurances.
Immediate Payout: The benefit is often paid out immediately upon death, providing quick relief for your family's financial obligations.
Simple Application: Applying for funeral insurance is typically straightforward and quick.
Fixed Premium: Your payments remain the same throughout the policy's lifespan.
Affordable: Burial insurance plans can be adjusted according to your budget.
When evaluating the benefits against the costs, consider the type of funeral and burial your parents wish to have. Compare this with the anticipated payout of the policy to see whether it aligns.


How Much Coverage to Buy

When buying burial insurance, remember the aim is not to leave a legacy, but to cover specific costs. Therefore, it's wise to calculate projected expenses and buy enough cover to meet these, without over-insuring and paying unnecessary premiums.

To be practical, consider also any potential hospital bills or debts your parents might have when they pass away. Burial insurance, depending on the policy, can also cover these costs, thus providing a more comprehensive financial safeguard.
What is the Average Cost of a Funeral in the USA?
It depends on whether you opt for a burial or cremation.
The average cost of a funeral and burial is $7,360, according to the latest data from the National Funeral Directors Association (NFDA). 
If you get a vault — required by many cemeteries — that number rises to $8,755. 
The average cost of a funeral and cremation is a little lower: $6,260.
Funeral, Burial and Related Final Expenses in USA
Here are some Sample Costs for Funeral and Related Expenses:
Metal Casket - $3,500
Funeral Service Fee - $2,123
Transfer to Funeral Home - $368
Ceremony - $543
Viewing - $460
Vault - $1,395
Cremation Casket - $1,200
Embalming - $759
Cremation Fee - $350
Hearse - $350
Transportation - $208
Urn - $295
Cosmetic Preparations - $262
Utility Vehicle - $189
Pamphlets / Prayer Cards - $175
Headstone - $199 to $10,000
Burial Plot - $1,000 - $4,000
Flowers - $80 or more
Premium Payments

Making regular premium payments is critical to keeping the burial insurance active. As the policy owner, you'll need a plan for managing these costs. It's advisable to have a conversation with your parents about this to agree on who will handle the payments.
You can set up automatic payments from your debit or checking account, so you don't miss any payments.
Guaranteed Approval for Coverage

Many insurers offer "Guaranteed issue" burial insurance policies, meaning they will not refuse coverage based on health issues. However, this often comes with higher premiums and potential waiting periods.


Affordable Plans

For individuals working with a tight budget, some insurance providers offer cheaper variations of burial insurance. Be cautious, though, as the cheapest burial insurance might not provide adequate coverage for all potential expenses.
You want to make sure you get enough insurance to cover the burial expenses, but not pay more than you can comfortably afford based on your budget.
Shared Ownership with Your Siblings

Another option you may consider is shared policy ownership. In this arrangement, you and your siblings (if any) can jointly own and contribute towards the burial insurance policy. This can lighten the financial load and distribute responsibilities.


Choosing the Right Burial Life Insurance Policy

Many people worry about making the right decision when purchasing burial insurance for their parents. By conducting thorough research, comparing different insurance providers, and considering their parents' wishes, they can make an informed decision.

When buying burial insurance for elderly parents, some might worry about their parents' potential health problems. Remember, many burial insurance policies offer guaranteed acceptance regardless of health condition.
Guaranteed acceptance burial life insurance plans offer guaranteed coverage for people ages 45 to 85 (varies by state), which means, even if your parents have serious health issues or have been denied life insurance in the past, they can still get insured.
Summary

Buying burial insurance for parents is a well-meant act of love, ensuring their end-of-life wishes are respected without placing financial strain on surviving family members.

It requires thoughtful decision-making, consideration of several relevant factors, and intentional conversations with parents to ensure their end-of-life wishes are respected.

In considering burial insurance for senior parents, you are helping to manage something often overlooked, yet deeply important - planning and covering their final expenses. It brings peace of mind, enabling you to focus on cherishing valuable moments with your parents rather than worrying about eventual end-of-life costs.
Burial Life Insurance Quotes
Top Pick – Mutual of Omaha
Mutual of Omaha offers guaranteed acceptance whole life insurance for people age 45 to 85. Choose $2,000 up to $25,000 of coverage. Rates start as low as $8.84 per month. There's no medical exam and no health questions. You cannot be turned down. You can get a quote and apply online now. Start Here to get a FREE Quote. 
Your life insurance policy comes with a 30 day Risk-Free, Money-Back Guarantee
Compare Guaranteed Issue Burial Plans: