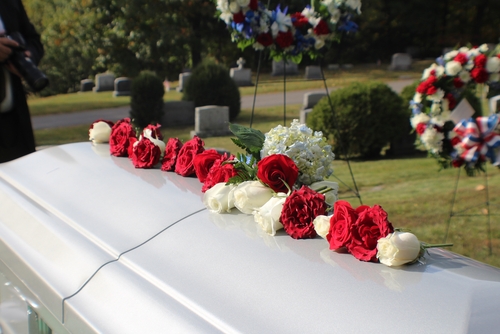 When we experience the loss of a cherished family member or friend, the last thing we want is the added concern of covering their funeral expenses. Regrettably, burial and funeral costs can become overwhelming, with the average funeral in the United States ranging from $7,000 to $10,000. This is where burial insurance steps in, offering families the vital financial support they require during these challenging moments.
Burial insurance is a specialized form of life insurance meticulously crafted to provide coverage for funeral and burial costs. In the state of New Mexico, numerous residents opt to invest in burial insurance to guarantee that their loved ones are not burdened with the financial responsibilities of their final arrangements.
Get a FREE Burial Insurance Quote
What is Burial Insurance?
Burial insurance, (also known as final expense insurance or funeral insurance) represents a specialized category within life insurance policies. Its primary purpose is to provide coverage for the expenses associated with an individual's funeral, burial, and related costs. In contrast to conventional life insurance policies, burial insurance typically features a lower face value and is specifically tailored to address the immediate financial needs related to a person's passing.
Burial insurance policies can range in coverage from a few thousand dollars to tens of thousands of dollars, and they may offer a range of benefits, including:
Payment for funeral and burial expenses, including the cost of the casket or urn, cemetery plot or cremation, headstone or marker, and other related expenses.
Payment for outstanding medical bills or other debts that a person may have at the time of their death.
Coverage for accidental death.
Why Burial Insurance is Important in New Mexico
New Mexico boasts a rich history of cherished family traditions, with some deeply rooted in the customs surrounding funerals and burials. In many local communities, it's customary to hold substantial funeral services, but these can come with a hefty price tag. Funeral homes across the state may charge anywhere from $5,000 to $10,000 or even more for a traditional funeral service, depending on the specific arrangements chosen.
Recognizing the financial challenges associated with these traditions, a growing number of New Mexicans are turning to burial insurance as a practical solution. By investing in burial insurance, individuals ensure that their final expenses are covered, thereby easing the financial strain on their loved ones. Moreover, it grants them peace of mind, knowing that their last wishes will be fulfilled without imposing the added burden of financial arrangements.
Burial insurance serves as a lifeline for those who lack alternative resources to cover their end-of-life costs. Individuals with limited income or assets may struggle to afford funeral and burial expenses out of pocket. Additionally, for those with medical conditions or advanced age, obtaining conventional life insurance can be challenging, making burial insurance an accessible and sensible choice for securing essential coverage.
How to Purchase Burial Insurance in New Mexico
To purchase burial insurance in New Mexico, you can start by researching insurance companies that offer burial and funeral policies. Many insurance companies offer burial insurance policies, so it's important to shop around and compare coverage options and rates to find an affordable plan that meets your specific needs.
When selecting a burial policy, it's important to consider the following:
The Face Value of the Policy: This is the amount of money that will be paid out to your beneficiaries upon your death.
The Cost of the Policy: The cost of a burial plan can vary based on factors such as your age, health, and the coverage amount you select. Start your FREE Quote.
The Terms of the Policy: Be sure to read the policy carefully and understand what is covered and what is not. Make sure you understand any exclusions or limitations on coverage, as well as the claims process.
The Insurance Company: Research the insurance company to make sure they are reputable and have a history of paying out death claims in a timely manner.
It's also a good idea to discuss burial insurance with your family members or loved ones to ensure they understand your wishes and have the information they need to file a claim.
Burial insurance is an important consideration for anyone in New Mexico who wants to ensure their final expenses are covered and their families are not burdened with the financial stress of paying for their funeral and burial. By purchasing burial insurance, you can have peace of mind knowing that your final wishes will be carried out as you desire.
Another benefit of burial insurance is that it is typically easier to qualify for than traditional life insurance policies. Many burial insurance policies do not require a medical exam, and some may only ask a few basic health questions. This can be particularly beneficial for people who have pre-existing health conditions or who may have difficulty obtaining traditional life insurance policies.
In addition to providing financial assistance for funeral and burial expenses, burial insurance can also offer emotional support to families during a difficult time. By having the financial burden lifted from their shoulders, families can focus on grieving and celebrating the life of their loved one, rather than worrying about how to pay for the funeral.
In New Mexico, burial insurance stands as a valuable investment, providing assurance that your end-of-life expenses are taken care of and sparing your loved ones from the financial weight of funeral and burial costs. With a bit of research, a careful examination of coverage alternatives, and the choice of a trusted insurance provider, you can discover a burial insurance policy that aligns perfectly with your requirements, offering you the tranquility of mind you seek.
Can I Buy Burial Insurance in New Mexico?
Yes, whether you live in Albuquerque, Las Cruces, Rio Rancho, Sante Fe, Roswell, or anywhere else in the state of New Mexico you may purchase burial insurance coverage. 
You have several options to choose from in purchasing burial insurance in New Mexico including buying coverage over the internet, calling a life insurance carrier direct, or contacting an insurance agent in your area to request information and a free price quote for your policy.
Burial Insurance is available to all citizens of New Mexico who meet the requirements for approval. There may be some age restrictions which vary by insurance carrier.
However, several insurers offer burial expense life insurance plans for people between the ages of 45 to 85. Some of the leading providers of burial policies include Mutual of Omaha, Gerber Life, and Met Life, among others.
Request Your Free Burial Insurance Quote
Learn About Burial Insurance 
Burial life insurance coverage typically falls under the category of permanent life insurance. It offers a set amount of life insurance protection that remains in effect throughout your entire lifetime.
When it comes to Burial Plans, you have the flexibility to choose the coverage amount that suits your needs, and the best part is, there's no need for a medical examination or health-related questions. These plans are often referred to as "Guaranteed Issue" policies because they assure approval for individuals who meet the specified age criteria.
Amount of Coverage Available
The amount of insurance for burial coverage available will vary by insurer, usually from $2,000 up to $25,000. Note, if you need more insurance, you may purchase a policy from more than one insurance company.
Age Requirements to Get Insured
The availability of burial expense plans may vary by insurer, but could be 45-75, 40-80, or 45-85 years of age, to get guaranteed approval insurance for burial and related expenses.
Can I Get Burial Insurance for My Spouse?
Yes. If you are married, you have an Insurable Interest in your spouse, and you may purchase burial coverage on him or her. You can get a burial policy for yourself, and a separate policy on your spouse.
What If I Change My Mind?
Each guaranteed issue life insurance policy from Mutual of Omaha comes with a 30 day Free Look Period, based on the state requirements in your state of residence. This basically gives you a Full Refund of all premiums paid if you return your policy within the Free Look Period, which may vary from 10 days up to 30 days, depending on the state and the insurance company. 
New Mexico Burial Insurance Statistics
Expected NM lifespan: 74.5
Average NM household income: $56,420
Typical cost of a NM funeral and burial: Over $7,818
Typical cost of a NM cremation package: From $1,940
While cremations are becoming increasingly popular because they usually cost a lot less than a traditional burial, families may incur extra expenses to hold a service as with any funeral. 
A final expense burial policy can make certain that your family has plenty of money to plan a dignified funeral and pay other bills like travel expenses or feeding guests; as well as, paying for the cost of your burial.
Burial and Related Final Expenses in New Mexico
Here are some Sample Costs for Burial and Related Expenses:
Metal Casket - $3,500
Funeral Service Fee - $1,763
Transfer to Funeral Home - $348
Viewing - $362
Ceremony - $488
Vault - $1,395
Cremation Casket - $1,200
Embalming - $661
Cremation Fee - $350
Hearse - $334
Transportation - $133
Urn - $295
Cosmetic Preparations - $230
Pamphlets / Prayer Cards - $175
Headstone - $199 to $10,000
Burial Plot - $1,000 - $4,000
Flowers - $75 or more
What is the Average Cost of a Funeral in the USA?
It depends on whether you opt for a burial or cremation.
The average cost of a funeral and burial is $7,360, according to the latest data from the National Funeral Directors Association (NFDA). If you get a vault — required by many cemeteries — that number rises to $8,755. 
The average cost of a funeral and cremation is a little lower: $6,260.
Can Life Insurance Help Pay for a Funeral and Burial?
Yes. Your beneficiaries can use the payout from your policy to cover your funeral costs.
If you don't have coverage in place yet, look into final expense life insurance — a permanent policy that's specifically designed to pay for end-of-life costs, like a funeral, burial and unpaid medical bills.
Usually marketed to seniors over age 65, these policies are limited to smaller amounts that range from $2,000 to $25,000, and they don't require a medical exam.
How Much Money Does a New Mexico Burial Insurance Policy Cost?
We always suggest shopping around because some burial insurance companies are more competitive than others. Besides that, companies base their rates on health, age, and location.
These are some examples of sample monthly premiums for a burial insurance plan in New Mexico for a man who is 67 and doesn't smoke:
$5,000: $63
$10,000: $88
$15,000: $110
Note: The New Mexico burial insurance rates above are just samples, and they could depend upon the company, location, and health underwriting. Either the applicant or family members might pay premiums.  Get a FREE Quote.
Guaranteed Life Insurance for Seniors in New Mexico
Even people with pre-existing health conditions can buy a burial policy. 
With Guaranteed life insurance for seniors, there are no health questions asked. 
However, the insured person has to outlive a waiting period in order to qualify for the entire death benefit from the insurance policy.
Before that, the policy might only refund previous payments (including interest) or pay the beneficiaries a part of the face value. 
You can also find simplified issue policies that ask a few health questions, and these are cheaper, offer an immediate death benefit, and might also offer more benefit choices. 
Also, some of these guaranteed plans offer life insurance to relatively healthy people over eighty years old.
New Mexico Burial Insurance Quotes
Top Pick – Mutual of Omaha
Mutual of Omaha offers guaranteed acceptance whole life insurance for people age 45 to 85. Choose $2,000 up to $25,000 of coverage. Rates start as low as $8.84 per month. There's no medical exam and no health questions. You cannot be turned down. You can get a quote and apply online now. START HERE to get a FREE Quote.
Your life insurance policy comes with a 30 day Risk-Free, Money-Back Guarantee
Resources:
Compare Plans:
Frequently Asked Questions
Do Funeral Homes Sell Burial Insurance Plans?
In some states, funeral homes can sell funeral and burial insurance policies, but there's no need to buy this type of insurance policy from a funeral home. If the funeral home agrees, you can assign the payout to go directly there upon your death to save your loved ones the trouble, but it's important to clear this with the funeral home first.
Is Burial Life Insurance a Good Deal?
Burial insurance coverage is not the only way to cover the cost of your final expenses. However, it can be a good type of insurance plan for people who only want a small life insurance policy and can't qualify for a larger or less expensive type of life insurance plan because of their age or health issues.
What is Covered by Burial Expense Insurance?
Burial insurance is a type of final expense life insurance policy designed to cover the cost of your burial, funeral, or cremation expenses, when you die. After you die, burial life insurance pays the death benefit of your insurance policy directly to your beneficiary, who can use the money in any manner they see fit. 
Get a FREE Quote for Burial Insurance