FAQs Smoker Term Life Insurance
Frequently Asked Questions and Answers
to Life Insurance for Smokers
Do Life Insurance Companies Test for Smoking?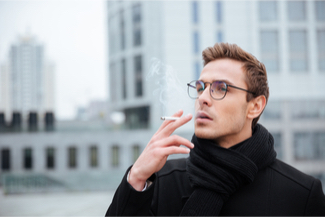 Yes, they do check for nicotine in your system. Life insurance carriers charge a higher rate for smokers because smoking increases your risk of health problems that increase your risk of dying at an earlier age.
How Do Life Insurers Test for Smoking?
There are several ways a life insurance company can determine if you smoke:
They ask you on the application.
They can ask you to take a blood test to check if there are any signs of tobacco use in your system.
They can request you take a physical exam that can determine if there are signs of smoking.
They can check with the Medical Information Bureau (MIB). The MIB keeps files on people who have applied for life insurance with companies who are members of the MIB.
How Long Does Tobacco Stay in Your System? 
Signs of tobacco use may stay in your system for up to a week or more; however, some doctors state that nicotine remains in the body for a day or two.
A 1988 Surgeon's General report stated that your body breaks down nicotine within 72 hours. Another medical report indicates that signs of nicotine leave your system within 14-48 hours.
However, urine tests can detect nicotine in your system for up to 7 days. Nicotine can be extracted from the hair for up to several months after use.
Consideration for Re-rate of Your Life Insurance Policy?
Yes, they will offer a re-rate. Some insurance companies require you to be smoke-free for between 1-5 years in order to consider adjusting the rate on your life insurance policy. This could mean a savings of hundreds of dollars per year on the cost of your life insurance.
What Happens If I Tell the Insurer I Don't Smoke?
You should not misrepresent your smoking. If you do smoke then answer the questions truthfully.
If you lie, you have intentionally misled a life insurance company. A life insurance policy is a legally binding contract and your application becomes part of that contract. If you lie in the application it is unethical and fraudulent. 
If the insurer determines you do smoke when you said you didn't they may decide not to offer you life insurance coverage.
If the insurer determines you lied about smoking after your life insurance policy is "In Force" they may cancel the policy subject to the "Contestability Clause".
The Contestability Clause allows the insurance company to contest your coverage, usually within the first two years of the policy.
If you die from a smoking-related illness in the first 2 years of your policy, the life insurance company may contest your coverage. This may result in your beneficiaries receiving NO Death Benefits form your policy.
How Can I Get Life Insurance without a Nicotine Test?
If you smoke, you do have options. Actually, there are a few companies that offer life insurance for smokers, but do not require you to take a medical exam. And, there's no nicotine test. These are called no exam life insurance policies, or simplified issue term life insurance.
How Can I Save Money on Smoker's Life Insurance?
There are several ways to save money on life insurance for smokers.
Compare Prices – compare multiple life insurance quotes from several insurance companies.
Choose Term Life – Term life insurance as it usually costs at least 50% less than permanent life insurance.
Annual Premium Payments – Choose to pay your life insurance premiums annually, since there are service fees added for monthly premium payments.
Quit Smoking – Smokers usually pay 2 to 3 times more for the same amount of life insurance compared to non-smokers.
Life Insurance Quotes
Top Pick – JRC Insurance Group
JRC Insurance Group helps you shop, compare and save on life insurance. Regardless of your age or health background, we'll shop our 40+ insurance companies and find you affordable life insurance you need to protect your family and fit your budget. Compare the best life insurance rates for savings up to 73%. Get Your FREE Quote
Highly Recommended – Globe Life Insurance
Get FREE Information On How $1* Can Buy Up To $100,000 Globe Life Insurance For Adults Or Children
No Medical Exam – Simple Application.
No Waiting Period. Buy Direct.
Rates As Low As $3.49 Per Month.
The Globe Life Family Of Companies Has Over 16.8 Million Policies In Force.
No Phone Required. No Credit Required.
The Globe Life Family Of Companies Has Nearly $220 Billion Of Coverage In Force.
Globe Life Is Rated A (Excellent) By A.M. Best Company As Of August 2022.
Life Insurance for Marijuana Smokers
FAQs Smoker Term Life Insurance
Can Smokers Get Life Insurance?
Disclosure: Compensated Affiliate