Life Insurance Coverage Declined?


Have You Had Life Insurance Coverage Declined?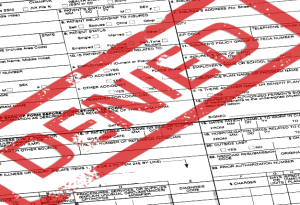 If you have a chronic medical condition, use prescription medicine, smoke, or are overweight, you may have been declined for life insurance coverage because you are a high risk.

Many life insurance carriers avoid people with chronic illnesses including diabetes, allergies, and heart disease. If you have a history of serious illness, such as cancer, you may also be disqualified for coverage.
Life insurance carriers carefully select customers when it comes to individual life insurance policies. 
Insurers can also deny coverage, or charge higher premiums, based on pre-existing medical conditions. If you have a pre-existing medical problem, you may be classified as high risk by the insurance company.
Top Pick – Mutual of Omaha
Mutual of Omaha offers guaranteed acceptance whole life insurance for people age 45 to 85. Choose $2,000 up to $25,000 of coverage. Rates start as low as $8.84 per month. There's no medical exam and no health questions. You cannot be turned down. You can get a quote and apply online now. START HERE to get a FREE Quote.
Your life insurance policy comes with a 30 day Risk-Free, Money-Back Guarantee
Sometimes, having minor medical conditions may make it difficult to get approved for life insurance, even if it's controlled by medication.
High Risk Applicants Usually Include The Following:
Having a chronic medical condition, such as diabetes, kidney problems, or high cholesterol.

Use of prescription medication.

Heavy smokers, overweight, or in poor physical health.
If you are a Sub-Standard, or High Risk applicant for life insurance, you may want to compare plans and offers for life insurance from many carriers right away.
If you have your life insurance coverage declined by all insurers, you may still have another option.
It's called Guaranteed Life Insurance Coverage. This type of life insurance provides coverage for people who may or may not be high risk.
Guaranteed life insurance means your acceptance is guaranteed. This coverage may be available for people age 45-85 (50-75 in NY).
You may be able to get up to $25,000 of life insurance with no health questions.
What's the catch? The amount of coverage is usually limited to $25,000.
The premiums are higher than for life insurance policies that are fully underwritten, requiring a medical exam.
Also, the policy benefit is considered Graded Benefits. That means, your full coverage is not available from the first day you own the policy. You don't have full coverage until you have owned the policy for 2 years, depending on the insurance company, and your policy.
Graded Benefits may apply for the first 2 years, meaning your beneficiary would receive the premiums paid plus 10%.
The full $25,000 of coverage is paid to your beneficiary if you pass away after owning the policy for 2 years.
Make sure you read the Graded Benefits Clause carefully, and fully understand how it works. If you have questions, ask your insurance agent or life insurance company to explain it to you in writing.
Checklist for High Risk Applicant's:
Answer all application questions honestly.


Let your insurance agent know what your condition is.


Challenge your declined application and ask for reconsideration by the insurance company.


Try to apply with insurers that ask fewer health questions on the application.
If You have A Serious Medical Condition:
Apply for life insurance coverage as soon as possible, so your waiting period, graded benefit period, starts immediately.


Try to get coverage without a physical exam.


Don't automatically apply for guaranteed acceptance life insurance, you may pay much less by answering a few health questions, as long as they don't pertain to your medical condition.


Don't be tempted by money-back guaranteed. Usually, most life insurance policies offer a 30 day money-back guarantee. This may vary by state.


Read all policy details regarding the coverage benefits, exclusions, limitations and waiting periods before buying your life insurance policy.


Read your entire life insurance policy after buying it, and ask your agent or insurer for written answers to all questions you have regarding your policy.
Guaranteed Acceptance Life Insurance
Life Insurance Coverage Declined
Disclosure: Compensated Affiliate