Life Insurance for Bungee Jumping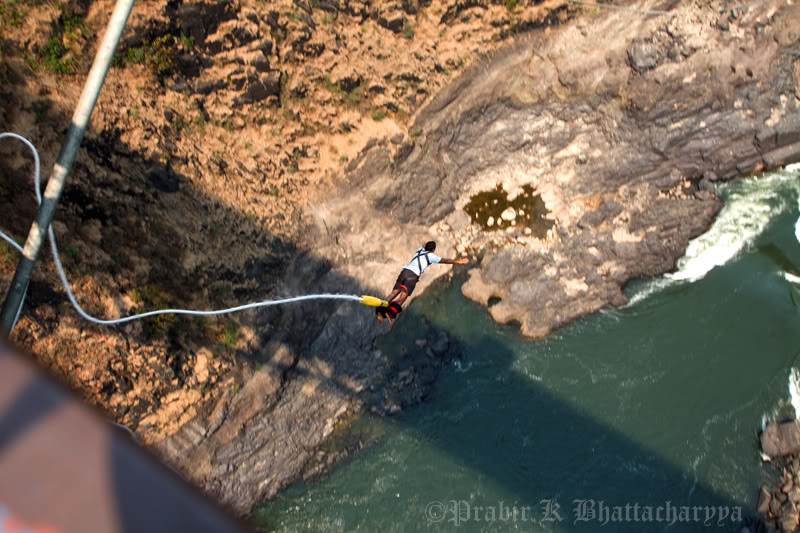 Are you looking for life insurance for bungee jumping?
Bungee jumping off bridges or cranes may seem like a great way to get an adrenaline rush, but it can make finding affordable life insurance a difficult task.
Sometimes, it can be difficult finding the right life insurance plan, especially if you have a high-risk hobby like bungee jumping.
Definition:  The activity of jumping from a great height with an elasticated cord attached to the ankles.
Bungee Jumping Life Insurance - Request a Free Life Insurance Quote
If you're more the dare-devil than the couch potato, you may end up paying 2 to 3 times more for your life insurance policy than those low-risk folks.
If, and to what extent a hobby can affect your life insurance rates vary by insurance company. Most insurers will factor in the frequency of participation in the hobby, the location of where you jump, and how high up the bungee jump is.
Hobbies or occupations that are risky can cost you dearly when purchasing a life insurance policy.
And, if your premium is too high, you may have to give up your bungee jumping all together, if you really need the life insurance protection.
However, some insurers may choose not to insure you due to your risky bungee jumping hobby. 
If you really need the life insurance coverage you'll ether have to give up your hobby, or pay the high cost of coverage through an insurer willing to cover you given your high risk activities.
So, how can you find affordable life insurance protection for someone who bungee jumps?
There are several ways to go about your pursuit of coverage:
Contact a local independent life insurance agent with access to several insurers.
Find a life insurance broker that specializes in placing life insurance for high risk hobbies and activities; such as, sky divers and bungee jumpers.
Compare multiple life insurance rates and plans online from a network of leading life insurance carriers.
What life insurance companies insure bungee jumping?
There are several life insurance companies that insure people for high risk sports, but one of the best-known, most financially secure companies is Prudential. In addition, American General and SBLI offer life insurance for high-risk activities.
You can request and compare multiple life insurance quotes including Prudential online today with no hassles and no obligation. Request your free life insurance quotes.
Factors That Affect Rates on Life Insurance for Bungee Jumping
1. What Type of Bungee Jumping?
The type of bungee jumps you take part in will have an affect on the price you pay for life insurance.
Do you bungee jump in the United States, or around the world?
Do you bungee jump from cranes, platforms, helicopters, buildings or bridges?
How high do you jump from?
All of these factors are considered when determining your rate for life insurance coverage or whether you qualify to be insured.
2. How Often Do You Bungee Jump?
The answer will have a big impact on whether or not you qualify for life insurance, and how much it will cost you.
If you only jump once in awhile, for instance, once each year on your birthday, there may not be any increase in your premium.
However, if you do jump on a regular basis, then your rate may be 2 to 3 times higher than if you didn't jump at all.
Do You Have Accidental Death Insurance?
Accidental death insurance is a type of life insurance that pays out a death benefit upon your death if it is caused by an accident covered by your policy.
Your coverage may not apply for activities considered dangerous, such as bungee jumping or skydiving.
You will want to ask your life insurance agent about what exactly is and is not covered by your accidental death insurance policy id you have one.
Also, review any exclusions in your accidental death policy to see what exactly may be excluded as a cause of death.
High Risk Activities
Insurance companies prefer to insure healthy individuals who are not risk takers. The more risks you take, the higher your premiums for life insurance.
Would it surprise you to find out that life insurance companies may consider other activities as a higher risk tan bungee jumping?
That's right. Some of the higher risk hobbies include such sports as mountain climbing, boxing, extreme watersports, back-country skiing, automobile racing, aviation, scuba diving, sky diving and B.A.S.E. jumping,
However, bungee jumping does fall within the category of dangerous sports that include skydiving and BASE jumping.
Keep in Mind: Whether or not you are approved for life insurance, and how much you will pay for your coverage will greatly depend on the insurance company guidelines for approval, how often you bungee jump, where you jump from, and how high, among other factors.
One of the leading insurance companies offering life insurance for high-risk sports is Prudential. In addition, some insurers offering bungee jumper life insurance coverage include American General and SBLI, among others.
You can instantly compare the lowest rates from Prudential and other leading insurance companies online right now - Request your Free Life Insurance Quotes
The Highest Bungee Jump
In August 2005, AJ Hackett added a Sky Jump to Macau Tower making it the world's highest jump at 764 feet.
History of Modern Day Bungee Jumping
The first modern bungee jumps were made on April 1, 1979, from the 250 foot Clifton Suspension Bridge in Bristol by members of the Oxford University Dangerous Sports Club.  Resource: Wikipedia 
Compare Quotes on Life Insurance for Bungee Jumping
Top Pick – JRC Insurance Group
JRC Insurance Group helps you shop, compare and save on life insurance. Regardless of your age or health background, we'll shop our 40+ insurance companies and find you affordable life insurance you need to protect your family and fit your budget. Compare the best life insurance rates for savings up to 73%. Get Your FREE Quote
Highly Recommended – Globe Life Insurance
Get FREE Information On How $1* Can Buy Up To $100,000 Globe Life Insurance For Adults Or Children
No Medical Exam – Simple Application.
No Waiting Period. Buy Direct.
Rates As Low As $3.49 Per Month.
The Globe Life Family Of Companies Has Over 16.8 Million Policies In Force.
No Phone Required. No Credit Required.
The Globe Life Family Of Companies Has Nearly $220 Billion Of Coverage In Force.
Globe Life Is Rated A (Excellent) By A.M. Best Company As Of August 2022.
Bungee Jumping Resources
Top Bungee Jumping Destinations:
Royal George Suspension Bridge – 1,053 Feet
Bloukrans Bridge – South Africa – 710 Feet
Kawarau Bridge – Queenstown, New Zealand
Victoria Falls Bridge – Border of Zimbabwe and Zambia
Macau Tower – Macau, China
BungeeZone - Places to Bungee Jump Around The World
Extreme Sports - Free Fall Sports
CNN Travel - World's 15 Highest Bungee Jumps
Request Bungee Jumping Life Insurance Quotes
Life Insurance for Bungee Jumping
Life Insurance Cost Calculator
Disclosure: Compensated Affiliate