Senior Final Expense Program
Are You In Need Of Life Insurance To Cover The Cost Of Your Final Expenses?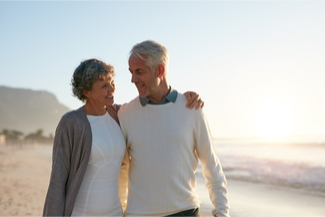 Most of us are, and it only makes good common sense to look for the most affordable funeral insurance plan from a reputable insurer when selecting insurance to cover the cost of your funeral.
After all, you want to make sure your loved ones won't have the financial stress of trying to come up with the money to pay for your funeral and burial costs while they are mourning your loss.
Well, an affordable funeral plan may cost less than you might expect.
In fact, coverage starts for as little as $17.69 per month. And, with guaranteed issue plans you won't have to take any health exam or answer any questions about your health.
A senior final expense program is a life insurance policy designed to provide enough money to pay for your final expense costs, including a funeral and burial.
Today, the average cost of a funeral, burial and related final expenses is $7,848 according to a 2021 survey by the National Funeral Director's Association. 
If you don't want to leave your loved ones with the financial burden of paying for your final expenses, this type of life insurance policy can help accomplish your goal.
Seniors age 80 and under can get insured without any delays or hassles. There's no health examination required and no medical questions asked.
You just select the amount of coverage you need and answer a few simple questions to receive a free price quote for your life insurance policy. 
You can choose up to $25,000 of coverage that is paid to your beneficiary free from federal income taxes.
These plans offer you an affordable, convenient way to cover your funeral and burial expenses. Your family will appreciate the kindness by providing the peace of mind that only came from your thoughtful planning.
Features of a Final Expense Plan 
No Physical Exam
No Health Questions Asked
People Age 50 to 80 Can Qualify
Rates Never Increase
Top Pick – Gerber Life
United of Omaha offers guaranteed acceptance whole life insurance for people age 50 to 80. Choose $3,000 up to $25,000 of coverage. There's no medical exam and no health questions. You cannot be turned down. START HERE to get a FREE Quote.
Your life insurance policy comes with a 30 day Risk-Free, Money-Back Guarantee
Final Expense Life Insurance Plan
Disclosure: Compensated Affiliate