Term Life Insurance Meaning
Learn How a Term Life Insurance Policy Works 



What is the Meaning of Term Life Insurance Coverage?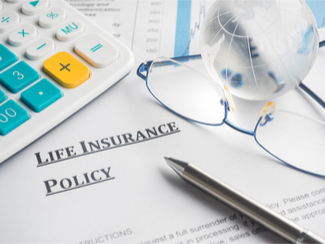 If you're looking into the purchase of a life insurance policy you may have come across the term "Term Life Insurance" and wondered how it works and if this type of life insurance will meet your specific needs.
Term Life is a type of life insurance that provides "Temporary Protection", thus the phrase Term which indicates the duration of your coverage.
Usually, insurers offer a Term of 10, 15, 20, 25 or 30 years of term life protection. However, the maximum duration of your policy term may be limited to less than 30 years depending on your age. 
For Example: Insurers may offer a maximum term of 20 years for people in their sixties, and 10 or 15-years maximum term for people in their seventies.
Meaning of Term Insurance:
Basically, "Term Insurance" means temporary protection lasting for a limited period of time, usually up to 30 years or less.
It's life insurance that pays out a death benefit in the event if the death of the insured person during a specific term. Compared to whole life insurance which provides lifetime protection.
What is Term Life Insurance Good For?
It's good for the following reasons:
Budget – Offers the maximum amount of life insurance to fit your budget.
Flexibility – Offers you the choice of protection lasting for a duration of 10-30 years.
Cost – Offers the lowest price available compared to all other types of life insurance plans.
Term life insurance, also known as pure life insurance, is life insurance that guarantees payment of a stated death benefit during a specified term. Once the term expires, the policyholder can either renew it for another term, convert the policy to permanent coverage, or allow the policy to terminate.
Term life insurance or term insurance is life insurance that provides coverage at a fixed rate of payments for a limited period of time, the relevant Policy Term.
After that period expires, coverage at the previous rate of premiums is no longer guaranteed and the insured person can either go without insurance, or potentially obtain further coverage with different payments or conditions. 
If the insured person dies during the policy term, the death benefit will be paid to the beneficiary. 
Term insurance is by far the least expensive way to purchase a substantial death benefit on a coverage amount per premium dollar basis over a specific period of time lasting for 30 years or less.
Term life is a type of life insurance that is in effect for a set number of years, usually anywhere between five to 30 years.
Term life insurance is a basic policy with no additional components, such as a cash value, but it is generally the best life insurance option for most people due to its lower cost for coverage.
Types of Term Life Insurance
There are several different types of term insurance you may choose from , including the following options:
Level Term Life Insurance – The most popular type of term policy available. Premiums remain the same each year for the duration of your policy term, while the amount of coverage provided never decreases.
Decreasing Term Insurance – Premiums remain level, while the amount of life insurance declines each year throughout the life of your policy term.
Return of Premium Term Insurance – Premiums are much higher for this type of policy, but you get almost all of the premiums back if you are alive when the policy term ends.
No Exam Term Insurance – Allows you to purchase a term life policy online without having to take any physical examination to get insured.
How to Save Money on Term Life Policies
No one wants to spend more on life insurance than necessary, that's why you should consider the following tips when shopping for life insurance:
Choose Term over Permanent – Term insurance costs a lot less than permanent policies. Permanent coverage may cost up to 5-10 times more than term.
Compare Multiple Quotes – Rates can vary quite a bit between insurance carriers.
Selecting a Term – Shorter terms have lower rates, so choose wisely when selecting the duration of your policy term. You may be able to choose coverage for a period of 10, 15, 20, 25 or 30 years.
Pay Annual Premiums – Paying your premiums monthly will cost more overall because a service fee is added for the additional payment processing compared to only paying your premiums once per year.
Use a Needs Calculator – Use a life insurance need calculator to help you determine how much coverage to buy, instead of paying higher premiums for more life insurance than you actually need.
Stop Smoking – Smokers life insurance premiums are usually 3-5 times higher than non-smokers for the same amount of insurance.
Get Healthy – Improve your diet and exercise. People with high cholesterol and/or those who are overweight or obese will pay a higher rate for their life insurance protection.
Term Life Insurance Explained
Term life insurance coverage is the most affordable form of life insurance protection available. 
Term life insurance provides the maximum financial security for the minimum cost. 
You get complete protection and it allows you to invest the rest you would have spent elsewhere on whole life insurance.
The premium rate you pay for term life insurance is guaranteed to remain the same low amount for the period of your term policy. 
Many life insurance companies offer term life insurance for periods of 5, 10, 15, 20 or even 30 years.
It's important for you to understand the terms of your life insurance policy before buying coverage. Term life insurance policies build no cash value within the policy. 
They pay a death benefit only if you die during the term of the policy coverage. If death of the insured occurs during the policy term, the beneficiary collects the face amount (death benefit) of the life insurance policy income-tax free. 
Premium rates for term life insurance policy renewals normally increase at the end of the guaranteed rate term. 
Advantages of Term Life Insurance
Premiums are lower compared to permanent life insurance policies.
You can afford higher amounts of coverage when needed.
Good for covering specific needs that end in time, such as your child's college education cost or a home mortgage loan.
Term life insurance is the most cost effective way to get the maximum amount of life insurance protection for the lowest cost, for a period of up to 30 years.
Compare Term Life Insurance Quotes
Top Pick – JRC Insurance Group
JRC Insurance Group helps you shop, compare and save on life insurance. Regardless of your age or health background, we'll shop our 40+ insurance companies and find you affordable life insurance you need to protect your family and fit your budget. Compare the best life insurance rates for savings up to 73%. Get Your FREE Quote.
Resources:
Globe Term Life Insurance with No Exam
Disclosure: Compensated Affiliate