Can You Buy Term Insurance When Over 65?
Are You Over Age 65 and Looking to Purchase a Term Insurance Policy?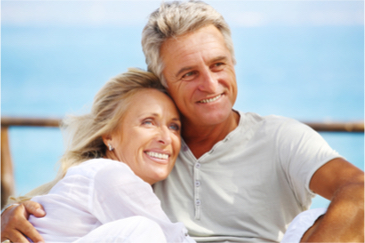 That's no problem. In fact, there are a couple options you may find helpful that we will review below. 
When it comes to buying life insurance in your sixties, many of us would prefer not to have to go through the headache, hassles and delays of taking a physical examination. 
And, now you don't have to worry about it. Do you actually want to visit the doctor if you don't have to? And, why bother with a blood and urine test?
Today, you can get the life insurance coverage you need, without the bother.
In fact, even if you have a pre-existing health condition, or you have been turned down after applying for a policy through another carrier, you can still get insured.
Yes, people over 65 years old may purchase a term insurance policy. In fact, most insurers offer term life plans to people over 65. 

The maximum duration of your policy term may be limited to around 10 or 15 years, depending on your current age and health.
What is Term Insurance?
Term coverage is temporary life insurance that lasts for a specific number of years. It's "Pure Protection" with no investment feature and no cash value.
How Does Term Life Insurance Work? 
Term Life provides you with life insurance that lasts for a set period of time. If you die during the "term" of your coverage, your beneficiary receives the death benefit from your policy.
If you are alive when your insurance expires, there is no payout.
Since term life coverage is temporary, you may outlive the duration of your life insurance protection. And yes, many people are still alive when their term policy expires.
If you find you still need coverage when your term life policy ends, you may be able to qualify to purchase a new policy, but your rate will be based on your age at that time. 
And, if you have health issues, you may find it difficult to get insured. 
So, make sure you select a "term" (duration) of coverage that matches your specific life insurance needs.
Duration of Coverage Available for 65 Year Olds
If you're sixty-five years old you may be able to choose term coverage lasting for a period of 5, 10, 15 years. 
Alternative: Permanent Life Insurance
Another option is permanent insurance which provides life insurance guaranteed to last your entire lifetime – so you won't outlive your protection.
Do You Have a Pre-Existing Health Condition?
If you have a health problem, you may find it difficult to get insured. However, there are plans that offer guaranteed approval for seniors age 45 to 85.
How to Save Money on Your Coverage?
You'll want to consider the following tips when purchasing your low-cost policy:
Choose Term Life – Permanent life insurance costs up to 5-10 times more than term insurance.
Compare Rates – By comparing prices you may save hundreds of dollars per year on the cost of your policy.
Choose Annual Payments – Insurers charge a service fee for monthly or quarterly premium payments, which means making annual premium payments will save you some money.
Use a Needs Calculator – Make sure you buy the right amount of life insurance, instead of purchasing more coverage than you really need. Use a life insurance needs calculator to help you decide how much insurance to get.
Quit Smoking – Smokers may pay up to 2-5 times more for the same amount of life insurance as non-smokers.
Get Healthy – You may qualify for a better health classification (lower rate) if you lower your cholesterol levels, lower your Body Mass Index, eat right and exercise regularly.
Safe Lifestyle – People who have a high-risk occupation and/or take part in high risk hobbies pay more for life insurance.
Have You Been Turned Down for Life Insurance? 
If you have applied for life insurance and been denied coverage, you may want to consider Guaranteed-Issue coverage. If you meet the age requirement for approval, you cannot be turned down.
If You are Married, Do You Need Life Insurance on Your Spouse, Too?
If you're married or have a life partner, you may purchase life insurance on him or her. Anyone with an Insurable Interest in someone else, may buy life insurance on that person. 
Tips for Buying Life Insurance at Age 65 or Older
There are several things to consider when buying a life insurance policy at your age, including the following:
What goal do you want your life insurance plan to accomplish?

How long do you need your policy to last?

What is your budget for life insurance?

Will the amount of life insurance provided by your policy ever decrease in the future?

Will the premium you pay ever increase in the future?

Can your life insurance policy be cancelled by the insurer if you develop health problems?

Can you buy life insurance for your spouse, too?
Common Reasons for Buying Life Insurance at Age 65 and Over
Some of the more popular reasons people age 65 and over purchase a life insurance plan include the following:
To pay for your final expenses, including burial and funeral costs.
To pay for your hospital and medical bills.
To leave money to your spouse and family members.
To pay off any outstanding debts.
To pay off a home mortgage loan.
To provide for your child or grandchild's education.
 Life Insurance Quotes
Top Pick – JRC Insurance Group
JRC Insurance Group helps you shop, compare and save on life insurance. Regardless of your age or health background, we'll shop our 40+ insurance companies and find you affordable life insurance you need to protect your family and fit your budget. Compare the best life insurance rates for savings up to 73%. Get Your FREE Quote.
Highly Recommended – Globe Life Insurance
Get FREE Information On How $1* Buys $50,000 Globe Life Insurance For Seniors
No Medical Exam – Simple Application.
No Waiting Period. Buy Direct.
Rates As Low As $3.49 Per Month.
The Globe Life Family Of Companies Has Over 16.8 Million Policies In Force.
No Phone Required. No Credit Required.
The Globe Life Family Of Companies Has Nearly $220 Billion Of Coverage In Force.
Globe Life Is Rated A (Excellent) By A.M. Best Company As Of August 2022.
Highly Recommended – Mutual of Omaha
Mutual of Omaha offers guaranteed acceptance whole life insurance for people age 45 to 85. Choose $2,000 up to $25,000 of coverage. Rates start as low as $8.84 per month. There's no medical exam and no health questions. You cannot be turned down. You can get a quote and apply online now. START HERE to get a FREE Quote.
Your life insurance policy comes with a 30 day Risk-Free, Money-Back Guarantee
Can You Buy Term Insurance When Over 65?
Life Insurance for People Ages 50 to 85
Burial Insurance for Seniors over 65
Disclosure: Compensated Affiliate