Over 55 Life Insurance
Do You Want to Buy Life Insurance for People over 55?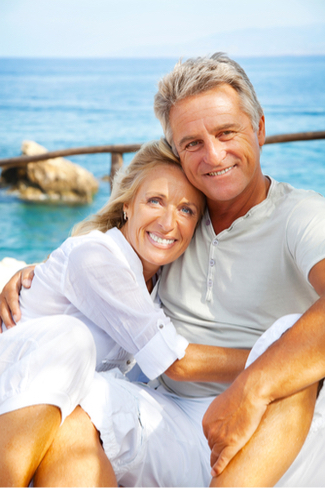 If you're over 55 you may be considering the purchase of a life insurance policy.
At age 55 you still have a lot more living to do, but you may still have responsibilities to your family and their future.
If you're 55 or over you may have children who want to attend college, a home mortgage loan, and other financial goals for your family.
That's why now may be the right time to get the coverage you need. But, isn't life insurance expensive when you're older?
Well, rates are higher the older you are when you purchase your policy.
However, you can find affordable coverage by following some simple tips:
Compare prices from several life insurance carriers
Choose an annual premium payment option
Select term life insurance that costs much less than permanent insurance
Protecting your family with life insurance is one of the easiest ways to guarantee your family has financial security for their future, even if you aren't there for them.
Although you are 55 or older, you may still be able to find an affordable life insurance plan that meets your needs and fits your budget.
By comparing prices on life insurance from several of the best-rated insurers you may find that your policy is much more affordable than you expected.
And, it's much easier than you could imagine. You just fill out a short quote request form and click on a button to get your Instant Quotes. There's no hassle, no waiting and no high-pressure sales pitch from some insurance agent at your dinner table.
You can request and compare your free life insurance quotes any time of the day or night, from any location, including your home or place of employment.
Do I Need Life Insurance?
Life insurance is purchased to protect someone else in case you are no longer alive to provide for that person.
So, if you have anyone who relies on your for some form of financial support, you may need life insurance.
Or, if you don't have money saved to pay for your final expenses, including the cost of your funeral and burial, you may need life insurance.
Why Do People Over 55 Buy Life Insurance?
There are several common reasons to buy life insurance after age 55.
Some of the leading reasons include:
To payoff your home mortgage loan so your family can remain in the home they shared with you.
To pay for your child's college education. 
To pay for your funeral and burials costs.
To maintain your family's lifestyle.
To replace your income for your family.
To leave your family (heirs) a legacy. 
To provide for your spouse's retirement.
Can Someone Over 55 Get Life Insurance Without Any Health Exam?
Yes, there are a few different no exam life insurance plans available for people over 55, including:
Simplified Issue Term Life Insurance – These plans offer people age 65 and under up to $500,000 of term life coverage with no exam, but there are some health questions to answer.
Final Expense Life Insurance – Offers a limited amount of life insurance to help pay for burial and funeral expenses.
Guaranteed Approval Life Insurance – Offers up to $25,000 of life insurance with no exams and no health questions. You cannot be turned down due to any health problem.
What Is The Cheapest Life Insurance For People Over 55 Years Old?
Term life insurance with a short term of coverage would be the cheapest available life insurance for people 55 and over.
So, a 5 year term life policy would have the lowest annual premium, followed next by 10 year term life and then 15 year term life coverage.
Life Insurance Quotes
Top Pick – JRC Insurance Group
JRC Insurance Group helps you shop, compare and save on life insurance. Regardless of your age or health background, we'll shop our 40+ insurance companies and find you affordable life insurance you need to protect your family and fit your budget. Compare the best life insurance rates for savings up to 73%. Get Your FREE Quote
Highly Recommended – Globe Life Insurance
Get FREE Information On How $1* Can Buy Up To $100,000 Globe Life Insurance For Adults Or Children
No Medical Exam – Simple Application.
No Waiting Period. Buy Direct.
Rates As Low As $3.49 Per Month.
The Globe Life Family Of Companies Has Nearly 17 Million Policies In Force.
No Phone Required. No Credit Required.
The Globe Life Family Of Companies Has Over $224 Billion Of Coverage In Force.
Globe Life Is Rated A (Excellent) By A.M. Best Company As Of August 2023.
Highly Recommended – Mutual of Omaha
Mutual of Omaha offers guaranteed acceptance whole life insurance for people age 45 to 85. Choose $2,000 up to $25,000 of coverage. Rates start as low as $8.84 per month. There's no medical exam and no health questions. You cannot be turned down. You can get a quote and apply online now. START HERE to get a FREE Quote.
Life Insurance Resources:
Life Insurance Calculator – Use this free and easy tool to quickly determine how much life insurance you need today to adequately protect your family.
Term Life vs. Whole Life – Review and compare the benefits of term insurance versus permanent life insurance protection to help you decide which coverage may accomplish your goals.
Top Life Insurance Carriers – Review a list of highly-rated insurance companies offering affordable life insurance coverage.

Can I Buy a Life Insurance Policy on My Adult Child?
Over 55 Life Insurance | Over 50's Life Insurance
Life Insurance for Seniors Age 50 to 85
Disclosure: Compensated Affiliate