Social Security Burial Insurance
Are You Wondering How You Can Pay for Burial Costs of a Loved One?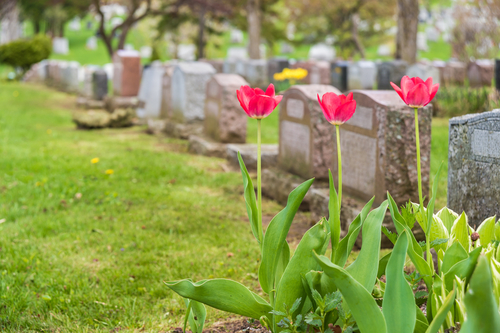 If your loved one has paid into Social Security for a minimum of 40 quarters, or roughly 13 and a half years, there are two types of Social Security final expense benefits that may be available to you.
This is a government program administered by the Social Security Administration that makes a one time payment of $255 to help meet the burial expenses of a worker who dies with sufficient quarters of coverage.  
This means the deceased had paid taxes for a sufficient period of time to meet the requirement for burial benefits.
The lump-sum payment is in addition to any monthly survivors insurance benefits that may be due to the surviving family members of the deceased.
When applying for survivor's benefits, you may need:
Birth Certificate
Death certificate
Marriage Certificate
Social Security numbers, and
A Copy of the deceased's recent Federal Income Tax Return.
The two basic types of Social Security burial insurance benefits you may qualify to receive, including:
1. Death Benefits:
Approximately $255 is given for a citizen of the U.S.A. to help pay for burial expenses. This is paid to eligible spouses or dependent children of the deceased person.
The survivor of the deceased person can complete the necessary form at the local Social Security office.
2. Survivor's Benefits:
Many types of benefits for survivors of a deceased individual are available depending on the age and relationship of any survivors.
You may be eligible for survivor death benefits if you qualify for any of the following circumstances:
If your spouse is age 60 or older.
If you have a disabled surviving spouse age 50 or older.
If your spouse is under age 60 and cares for dependent children who are under age 16.
If the children of the deceased person are under the age of 18, or disabled.
Social Security Survivors Insurance
A program administered by the Social Security Administration that provides monthly cash benefits for the eligible survivors of workers covered under Social Security who have died.
Survivors benefits amounts are figured as a percentage of the deceased worker's primary insurance amount.
What is a Burial Fund
A burial fund is money set aside to pay for burial expenses.
Reference:  Burial Funds 
In many special circumstances Social Security can help to pay for burial costs. Of course, conditions may apply.
They are only available for people with a real financial need for starters, the person applying for help with funeral costs or burial costs must be a social security recipient with a proven financial need.
Who Qualifies for a Social Grant?
Some conditions also help to qualify a person for a social grant and help towards their burial costs. This includes conditions such as diabetes and AIDS/HIV which leave the person unable to care for their own basic needs, never mind pay for their own funerals. Other disabilities are, of course, included in this.
If you want to know more about whether Social Security can help to pay towards your funeral costs, contact:
Social Security Administration,
Office of Public Enquiries,
Windsor Park Building,
6401 Security Blvd,
Baltimore, MD 21235     
800 – 772 – 1213
ssa.gov
How to Apply for Funeral Benefits from Social Security
The Social Security death benefit is relatively easy for surviving family members to claim and quick to be aid, but it is currently a small lump sum payment of $255 (assuming the deceased person had enough Social Security work credits).
Who Can Claim Social Security Burial Benefits?
The surviving spouse or dependent children can claim this burial benefit.
The payment is in addition to ongoing survivor benefits to which the spouse or children may be entitled.
You can visit your local Social Security office to claim benefits. The staff can help you with the paperwork and explain what information and documents may be needed; such as, a death certificate.
To find the closest office check the government listings in your phone book, use the "How to Find Your Local Office" service at ssa.gov, or call the Social Security Administration toll-free at 1-800-772-12-13
How Social Security Can Help You When a Family Member Dies
How Can I Prepare for My Burial Costs?
If you want to prepare for your own burial expenses so you don't leave your loved ones with the financial burden of paying for your burial costs while they are grieving your loss, you may want to consider purchasing a burial life insurance plan.
The death benefits from a life insurance policy you leave to your family may be used to pay for the cost of your burial, funeral, and related expenses.
Buying a life insurance policy to leave money to pay for your final expenses is one of the most common reasons people choose to purchase life insurance.
A recent study from the National Funeral Director's Association found the average cost of a funeral to be around *$7,848. This amount includes the cost of a burial plot, headstone, casket, memorial service, and related expenses.
Although the social security burial benefit of $255 may help, it will not be nearly enough to pay for your funeral and burial costs.
* According to the NFDA (National Funeral Directors Association) the national median cost of a funeral for calendar year 2021 was $7,848. 
Reference: NFDA 2021 Funeral Costs
Many people choose to buy $10,000 or more of life insurance coverage to provide enough money for their family to be able to pay for their funeral costs, debt, and leave money to their loved ones.
Burial Insurance Quotes
Top Pick – Mutual of Omaha
Mutual of Omaha offers guaranteed acceptance whole life insurance for people age 45 to 85. Choose $2,000 up to $25,000 of coverage. Rates start as low as $8.84 per month. There's no medical exam and no health questions. You cannot be turned down. You can get a quote and apply online now. START HERE to get a FREE Quote.
Your life insurance policy comes with a 30 day Risk-Free, Money-Back Guarantee
Highly Recommended – Globe Life Insurance
Get FREE Information On How $1* Buys $50,000 Globe Life Insurance For Seniors
No Medical Exam – Simple Application.
No Waiting Period. Buy Direct.
Rates As Low As $3.49 Per Month.
The Globe Life Family Of Companies Has Over 16.8 Million Policies In Force.
No Phone Required. No Credit Required.
The Globe Life Family Of Companies Has Nearly $220 Billion Of Coverage In Force.
Globe Life Is Rated A (Excellent) By A.M. Best Company As Of August 2022.
Social Security Burial Insurance
Disclosure: Compensated Affiliate