When is a Good Time to Buy Life Insurance?
The Right Time to Purchase Life Insurance
The best time to buy life insurance is when you're young. The longer you wait, the more expensive it gets, as you get older. Your health history and life choices, such as smoking, play a key role in increasing the cost of your policy.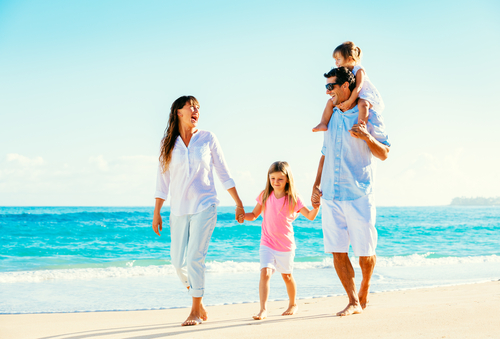 The right life insurance policy provides you and your family with essential protection needed in the event of your death. If you die, the payout of the death benefit can guarantee your loved ones have the funds they need to cover your final expenses (burial and funeral), pay your debts (mortgage and credit cards) and cover other expenses, such as college education costs for your children.
However, life insurance can also be expensive if purchased at the wrong time. It's important to find the best life insurance plan at the most affordable price, from a highly-rated (financially secure) insurance carrier. 
We recommend you compare life insurance rates and plans from multiple insurance companies to help you find the best price and coverage.
When to Purchase Life Insurance
Here are some common situations when people consider purchasing life insurance coverage:
You Have a Family – If you have children who depend on your income for financial support, you should consider buying life insurance, regardless of whether you have a spouse, or not. The death benefit will provide for your child's needs in the event of your death.
You are Starting a Family – If you have just had a child, or are planning to have one soon, buying life insurance is a good idea. New families can rely on the coverage to make up for your lost income, if you pass away.
You Have a Spouse But No Children – If you have a spouse but no children, you may or may not need life insurance. If your spouse depends on your income, buying life insurance may be wise. However, if your spouse would be fine with his or her own income, should you die, you may not need to buy coverage.
You are a Young Single Adult – As a young single adult, you may not need life insurance to provide for a family member. However, if you think you may need coverage in the future, it may be wise to buy life insurance while you are young, as it tends to be much less expensive. 
You Own a Business – If you own a business and other people rely on you for income as a result of you being a business owner, you may want to buy life insurance to provide for the business, in the event of your death.
You Have Debts and Assets – If you have debts, such as, a mortgage, an auto loan or a student loan, as well as assets that you want to pass along to heirs, you may need life insurance. Without life insurance, your assets will have to be sold, to cover your debts. A life insurance policy will provide the funds needed to pay off these debts, and allow your assets to pass to your loved ones without hassles or delays.
What to Consider Before Buying Life Insurance
Before you buy a policy, make sure you consider your financial situation and needs, and ask yourself:
What costs will my family have after I'm gone?
How will the loss of my income affect my family?
Two Types of Life Insurance to Consider
Term Life Insurance
Provides coverage for a specific number of years.
Premiums remain the same for the duration (Term) of your policy.
There is No Cash Value so you can't cash it out.
Provides coverage options for 10, 15, 20, 25 or 30 years.
Provides Pure Protection, Not an Investment.
Permanent Life Insurance
Builds some cash value inside the policy over time.
You may borrow from the cash value in the policy.
Cost up to 5 to 10 times more than the same amount of term life insurance.
What If I Change My Mind?
Each life insurance policy comes with a Free Look Period which is required by law and may vary depending on the state in which you live.
It means, you can return your policy for a full refund of all premiums paid within the Free Look Period.
This money-back period may vary from 10 to 30 days (or more) depending on your state of residence.
Tips for Buying Life Insurance
Here are some tips to assist you in the buying process for life insurance:
Never Buy Insurance You Don't Understand. It's the responsibility of the agent, broker or company to explain your coverage in terms you can understand. 
Save Every Piece of Paper Explaining Your Coverage and Your Policy. Keep them on file with your policy. If the agent used a laptop computer, insist on a paper copy of what he or she showed you. 
With Every New Insurance Policy You Get a "Free-Look" Period. If you change your mind and return the policy during the free-look period, the company must return your premium within 30 days.
Don't Cancel or Let Your Old Coverage Expire Until Your New Policy Takes Effect.
A Life Insurance Policy is Not an Investment. If an agent or broker tries to sell you life insurance as an investment with a high return, insist he or she show you that specific guarantee in your contract.
If You Give Money to an Agent or Broker, Always Get a Receipt.
Understand Why You Need Life Insurance
While most people need life insurance at some point in their lives, don't buy a policy just because you heard it was a good idea.
Life insurance is designed to provide families with financial security in the event of the death of a spouse or parent.
Life insurance protection can help pay off mortgages, help provide a college education, help to fund retirement, help provide charitable bequests, and, of course, help in estate planning.
In short, if others depend on your income for financial support, you should strongly consider the purchase of a life insurance policy.
Even if you don't have any of these needs immediately, you still may want to consider purchasing a small "starter" policy, if you anticipate you will have them in the future.
The reason: The younger you are, the less expensive life insurance will be.
Determine the Amount of Coverage You Need
The amount of money your family or heirs will receive after your death is called a death benefit.
To determine the proper amount of life insurance, online life insurance calculators can be helpful. You can also get a ballpark figure using any number of formulas.
The easiest way is to simply take your annual salary and multiply by 8.
Use a needs calculator, for example, or use a formula to figure out how much you need.
An easy place to start is by multiplying your annual income by the number of years left before your retirement benefits kick in.


Find the Right Type of Policy
Once you figure out how much coverage you'll need, you can think about the best kind of policy to meet your needs.
You have two main options: Term Life, for a more affordable premium, or Permanent Life, for more comprehensive coverage that can add cash value. But you have a lot of options to explore.
Look at the Quality of the Insurance Carrier
An insurance policy is only as good as the company that backs it.
You want to make sure you choose a company you can rely on to be around for as long as you'll need your coverage, and one that invests premiums in a highly prudent manner in order to pay the claims of its policyholders.
Should I Buy Term Life Insurance or Whole (Permanent) Life Insurance?
Many people may choose to buy a term life insurance policy and a separate whole (permanent) life insurance policy to meet their short and long term life insurance needs. 
Term life insurance can give you the temporary life insurance you need for up to 30 years at very low rates.
How to Choose the Best Life Insurance
Calculate how much life insurance you need.
Compare term life and whole life insurance to understand how it works.
Compare multiple life insurance quotes from several highly-rated insurance carriers.
What is the Cheapest Life Insurance?
Term typically offers the cheapest life insurance available because it is a temporary coverage that will expire in a predetermined time period, although cheap whole life insurance policies exist. Since term is usually the cheapest life insurance type, there is usually no savings benefit or cash value included.
How Does Term Life Insurance Work?
Term life is temporary coverage lasting for a specific period of time, usually up to 30 years. 
You may be able to choose a term of 10, 15, 20, 25 or 30 years of coverage.
If you pass away during your policy term, the death benefit is paid out to your beneficiary.
If you outlive the policy term, your coverage expires with no payout of benefits.
Are Term Life Insurance Premiums Fixed?
The most popular type of term life policy is Level Term.
Level term plans have fixed premiums for the entire duration of your policy. By far, the most commonly purchased type of term insurance is level term life.
With level term, you select a term (duration) for coverage and you pay the same amount of premium each year for the length of your policy term.
Do I Really Need Life Insurance?
Everyone who is not self-insured should have life insurance – especially if you have a spouse and kids who depend on you for financial support.
If you die unexpectedly, your family is going to financial support to help pay for their living expenses.
What is the Best Age to Get Life Insurance?
The optimal age for purchasing life insurance is right after birth.
Life insurance is age-banded, which means that as each year passes, buying a new life insurance policy becomes more expensive.
The sooner you purchase life insurance, the better, as it becomes more expensive with each passing year.
A parent or relative can buy life insurance for a minor; however, more often adults buy life insurance for themselves.
The optimal age to purchase life insurance is under 35, but few people in that age group are able to afford life insurance.
Roughly 57% of Americans have life insurance and more than half of them are age 45 or older.
A life insurance policy is a way to look out for loved ones in the event of your death.
But when is the right time – and the right way – to buy life insurance? 
Three out of Five Americans currently own some form of life insurance, according to a recent study by the insurance education group Life Happens.
And while that sounds like a large number, the non-profit group's leader points out that coverage rates can vary greatly by age groups based on "Life Cycle Decisions."
When young Millenials get married and buy a home and incur a bunch of debt, then they start to consider life insurance.
When you feel great in your 30s, it's the perfect time to buy life insurance.

The younger you are, assuming you're healthy, the less expensive it's going to be for you to get insured for life insurance.
It's usually wise to buy life insurance coverage when you're younger to protect your insurability, because older Americans in poor health may pay big premiums or even be denied coverage altogether because they are seen as too risky to insure.
For example, it may be wise for someone in their 30's to consider buying term life insurance that lasts for 15 to 20 years, but also offers the option to convert the coverage to permanent insurance without the hassle of having to prove you're in good health later on by requiring a health exam.
How to Know When the Right Time is to Buy Life Insurance?
Here's a few factors for you to consider:
Age
When purchasing a life insurance policy, age is the first factor taken into account when setting the price. As such, the best time to buy life insurance will be as a newborn, as the policies become more and more expensive as you age and your risk factors increase.
As a parent, you may consider buying permanent life insurance policies for your children. Upon turning 18 years old, the policy can be transferred to the insured for either further funding, or to be cashed in if any equity (cash value) is held.
If you missed out on the childhood life insurance policies, there's still an optimal time to buy a life insurance policy while under the age of 35.
Between 18 and 35 years old are the least likely to buy a policy. The largest advantage is the cost, as it's so reasonable because the relative risk of dying is low at that young age.
Marital Status
The purpose of buying life insurance is to protect your household.
While young people may not see the value of a life insurance plan while single, getting married significantly changes that equation as you take on greater financial responsibilities.
Getting their partner protected should the unspeakable happen suddenly becomes a priority.
As such, post marriage could be an ideal time for people to think seriously about buying life insurance for them-self and their spouse.
Children
Even more than with a spouse, the arrival of children into someone's life increases the need for life insurance protection.
Life insurance is there to cover the amount of income you bring into your family should you not be there anymore to provide for them.
Having your family depending on you and your ability to provide funds to support the family only increases the need to buy life insurance.
Once your first child is born, make sure you purchase life insurance to provide the financial security your growing family needs.
No Good Reason to Wait to Buy Life Insurance
The main takeaway about life insurance is that you'll never know when you need it.
Delaying buying coverage puts your family at risk should you die.
The best time to act may have been yesterday, but the next best time to buy life insurance is today. Not only does going about life without it put you and your family at unnecessary risk, but it also increases the cost to get insured.
For example, a 20-year level term life policy with a death benefit of $500,000 would cost a 35-year-old about $30 per year, compared with $1,280 per year for a healthy 50-year-old.
The Bottom Line
The right time to buy life insurance should not be based on your age, it should be based on your need.
What Affects Life Insurance Rates?
There are several variables that impact the cost of a life insurance policy, including the type and amount of life insurance you need.
In addition, personal risk factors affect your cost of coverage, including your age, gender, health, occupation, hobbies, lifestyle, family health history, height-to-weight ratio, driving record and tobacco use, among other things.
The younger and healthier you are, the lower your cost of life insurance.
To find the best price, you can instantly compare the lowest rates for life insurance from several of the leading insurance companies by requesting a Free Quote.
Life Insurance Quotes
Top Pick – JRC Insurance Group
JRC Insurance Group helps you shop, compare and save on life insurance. Regardless of your age or health background, we'll shop our 40+ insurance companies and find you affordable life insurance you need to protect your family and fit your budget. Compare the best life insurance rates for savings up to 73%. Get Your FREE Quote.
When is a Good Time to Buy Life Insurance?
Life Insurance for Seniors Age 50 to 85
Disclosure: Compensated Affiliate