Is Term Life Insurance Good?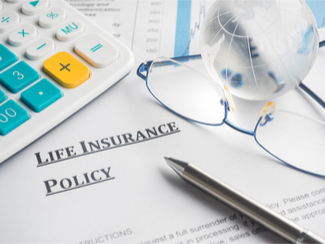 If you're in need of life insurance to provide financial security for your family's future, you may be considering the purchase of a term life policy, especially if you're on a budget, like most of us, or you need short-term protection.
Term Insurance, which is also known as temporary life insurance, provides coverage lasting for a specific period of time, usually up to 30 years. 
How a Term Life Insurance Policy Works
Term life plans provide temporary coverage that pays out a death benefit to your beneficiary if you (the insured person) die while your life policy is "In Force".
If you are alive when your policy expires, there is no payout of any death benefits, and your life insurance coverage ends.
The owner of the insurance policy agrees to pay premiums on a regular basis to the insurance company, and in return, the insurer agrees to pay out a death benefit if the insured person dies during the term of the policy, subject to all terms, conditions and exclusions stated in the life insurance contract.
How Long Does Term Life Insurance Last?
Term life policies may be available with a duration (term) of 10, 15, 20, 25 or 30 years.
The longer your policy term, the higher your annual cost of life insurance.
What Happens If I Outlive My Term Life Insurance Policy?
If you outlive the duration of your policy term, the coverage ends and there is no benefit paid out on your life insurance.
Who Needs Term Life Insurance?
On a Budget
Need Maximum Amount of Life Insurance for Your Money
Need Coverage Lasting for 30 Years or Less
Term coverage is for anyone who needs life insurance lasting for a period of thirty years, or less.
Permanent life insurance provides lifetime protection and usually costs up to 5-10 times more for the same amount of coverage compared to a term life policy.
If you're on a budget, term life is definitely an option to consider.
What is Term Life Insurance Used For?
There are several things a term policy may help you protect or provide for, including:
Pay Off Mortgage Loan
Replace Your Income
Pay for Monthly Bills
Maintain Family's Lifestyle
Provide for Spouse's Retirement
Provide for Child's College Education
Pay for Final Expense – Funeral and Burial Costs
Pay Off Debt – Credit Cards and Personal Loans
Advantages of Term Life Insurance
Premiums are usually much lower for Term life insurance compared to whole life insurance. 
Term life provides funds for people who depend on you for financial support.
Creates an estate to leave to your heirs, if you haven't had a chance to build much wealth.
Level term life insurance premiums remain the same for the term of the policy. So, 20-year level term means your premiums stay the same for 20 years.
Provides the maximum life insurance protection for your dependents at the lowest cost.
Provides affordable life insurance protection to fit almost any budget.
Many term life policies offer you the option to convert your coverage to whole life insurance by some future date, (without having to prove insurability – taking a medical exam).
Disadvantages of Term Life Insurance
If you outlive your term insurance policy, your premiums to buy a new policy will be much more expensive.
If you do convert your term insurance to whole life – your premiums will be much higher for the same amount of coverage. 
Premiums usually increase with age, unless you buy level term life insurance.
NOTE: When your policy expires, you may not be in good health, and unable to qualify for another life insurance policy at that time.
Types of Term Life Insurance Policies
There are several different types of term policies available, including:
Level Term – This is by far the most popular type of term policy available. It offers coverage with level premiums for the entire length of your policy, and the amount of insurance provided stays the same each year. Request your free quote.
Annual Renewable – This type of plan provides one year coverage, and if you choose to renew your policy for an additional tear, the premium increases with each yearly renewal. 
Decreasing Term – This type of plan has level premiums but the amount of coverage provided declines each year.
No Exam Term Life – This type of plan allows applicants to apply for coverage online without taking a medical exam, and start their coverage the same day, if they qualify for coverage.
Return of Premium – This type of plan returns almost all of your premiums if you outlive the duration of your term life policy; however, premiums are higher for this type of policy.
NOTE: Term life insurance is good to Pay Large Expenses that only last for a set length of time. 
For Example: A mortgage, tuition loan, or small business loan are some large liabilities that most people do not have the money saved up to pay off, if they should die prematurely. 
But they are expenses that will not last forever. Therefore, Term insurance is a low-cost way to cover those large debts for a set period of time, without breaking the bank.
Another thing Term insurance is good for is Raising a Family. You may want to purchase Term insurance with a policy term long enough to get your youngest child to at least age 23. 
Term Life Insurance May Be a Good Idea For
Engaged
Young Families
Single Parents
Married Couples
Expecting a Child
Divorced Parents
Mortgage Holders
Term Life Insurance May Not Be a Good Idea For
Guaranteed Lifetime Protection
Cash Value / Loans
Should You Own a Term Life Insurance Policy?
This is an important consideration when choosing to purchase a life insurance policy that ensures the future financial security for your loved ones should you pass away.
So, what is your goal for your life insurance plan – what do you want it to accomplish and how long will you need coverage in order to accomplish your goal?
These are questions you need to answer to determine if a term life policy is right for you.
You would be the owner of the life insurance policy if you purchase the coverage and pay the premiums. You may insure your own life, or own a policy that insures the life of someone else.
The majority of people choose to purchase a policy that insures their own life. 
However, there are many people who buy a life insurance policy to insure the life of their spouse, partner, child, parent or business partner.
You may own a life insurance policy that insures someone else's life if you have an Insurable Interest in that person, meaning you either rely on the person for some form of financial support, or you should suffer some financial loss if the person you want to insure would pass away.
Who Owns a Term Life Insurance Policy?
A Homeowner
Someone with a Mortgage Loan
People with One or More Children
Someone with a Car Loan
Someone with a College Loan
Divorced Parents
Single Parents
Widowers
If You Have Someone Who Relies on You for Financial Support
Why Purchase a Term Life Insurance Policy? 
Starting a Family and Want to Protect Your Family's Future
Have Children and Want to Provide for Your Child's College Education
On a Budget and Need the Maximum Amount of Life Insurance for Your Money
Need 30 Years or Less of Life Insurance Protection
Own a Home and Want to Protect the Mortgage
Married and Want to Protect Your Spouse
Term Life Insurance Quotes
Top Pick – JRC Insurance Group
JRC Insurance Group helps you shop, compare and save on life insurance. Regardless of your age or health background, we'll shop our 40+ insurance companies and find you affordable life insurance you need to protect your family and fit your budget. Compare the best life insurance rates for savings up to 73%. Get Your FREE Quote.
Compare Term Life Insurance vs. Whole Life Insurance
Disclosure: Compensated Affiliate